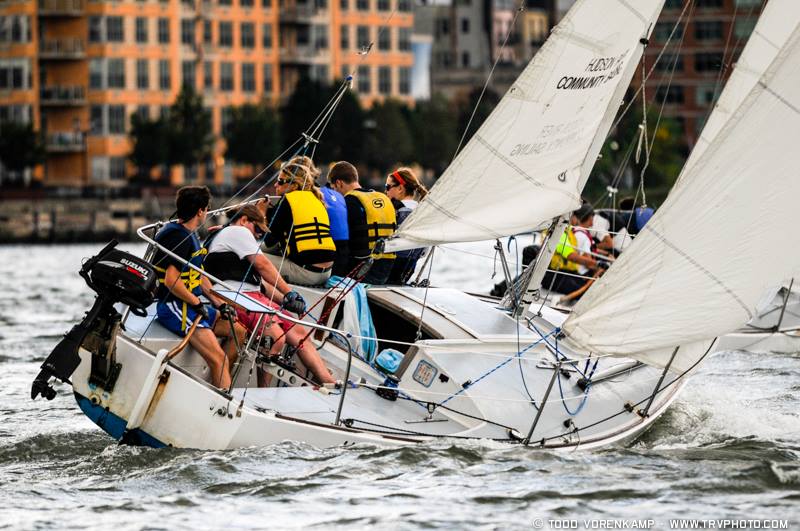 Schedule
Each series is 8 evenings of racing.
Spring - Tuesdays: 6:30-sunset. May 10th - June 28th
Summer - Tuesdays: 6:30-sunset. July 12th - August 30th
Fall - Sundays 9/11 - 10/23

9-11-16 1:30pm - 3:30pm

10-16-16

NO RACING (DAY AFTER SAILING FOR SCHOLARS)

10-30-16 10am - 2pm

(end of season regatta)
Racing Benefits
Race J-24s on the Hudson with Manhattan as your backdrop
Attend workshops and fun social events
J-24s are spinnaker rigged with all equipment aboard
Become part of the New York City racing community

Your racing supports our youth programs

Take guests racing

Enjoy the outdoors without the commute
How It Works
Race Leader - Pays for the boat. Must be an HRCS capt. or crew member. Can be more than one person in order to defray costs. Race Leaders are esponsible for finding crew.
Race Captain - Captains the boat. Must be an HRCS capt member. Bears the responsibility for all occurrences aboard the boat as per a regular HRCS capt member.
Fleet - 10 J-24s, rigged with spinnakers. Teams are rotated through boats during series.
Courses - Windward-leeward 1x or 2x, between Pier 76 and 62 in the Hudson River.
Fees
$900 Per Series.

The entire season (all 3 series') is $2430 (15% off).

2 series' are $1,620 (10% off).

If you are interested in racing with us please email the Race Director, Don Rotzien at
DRotzien@HudsonSailing.org
---