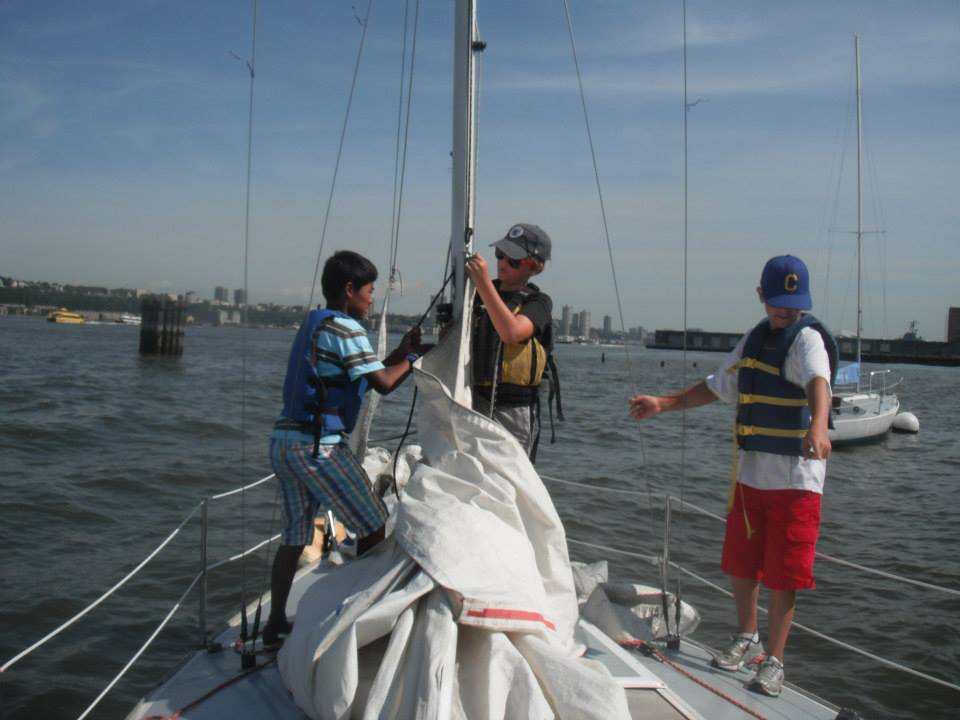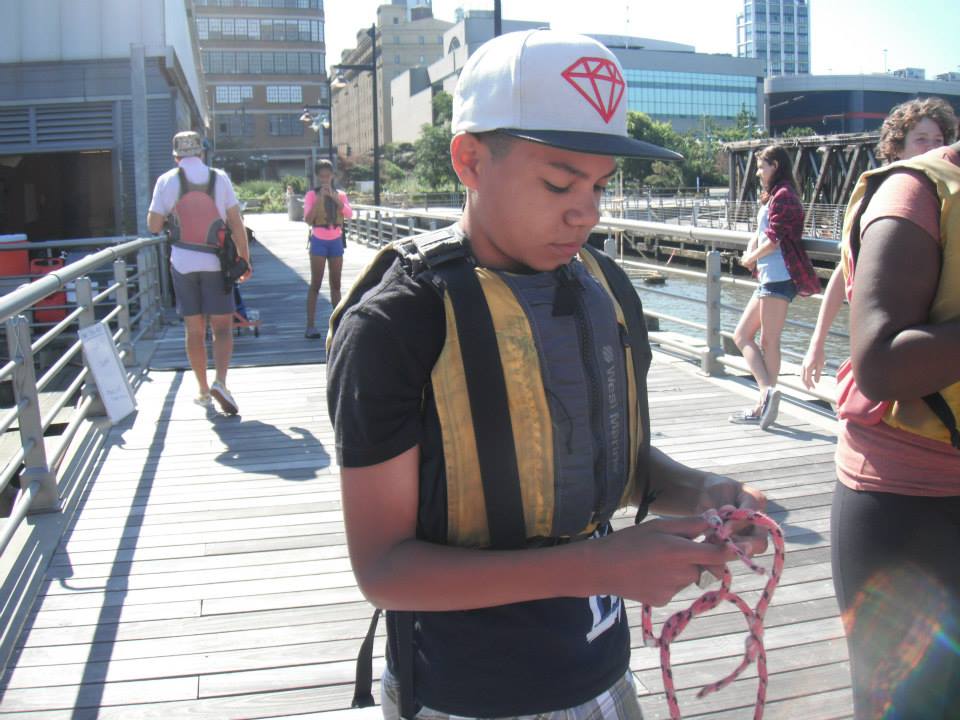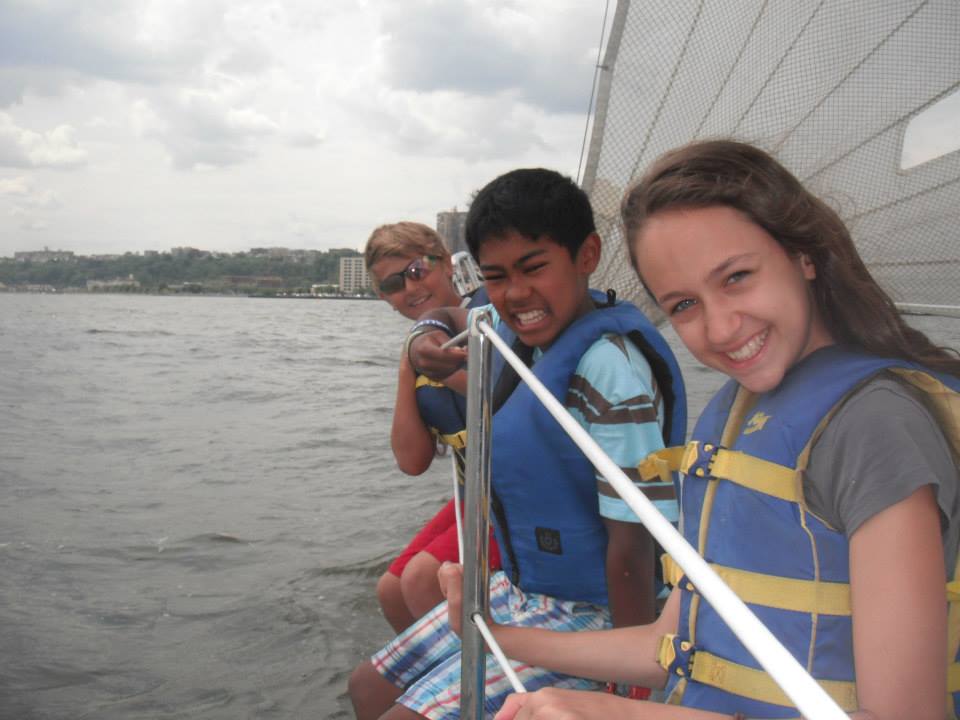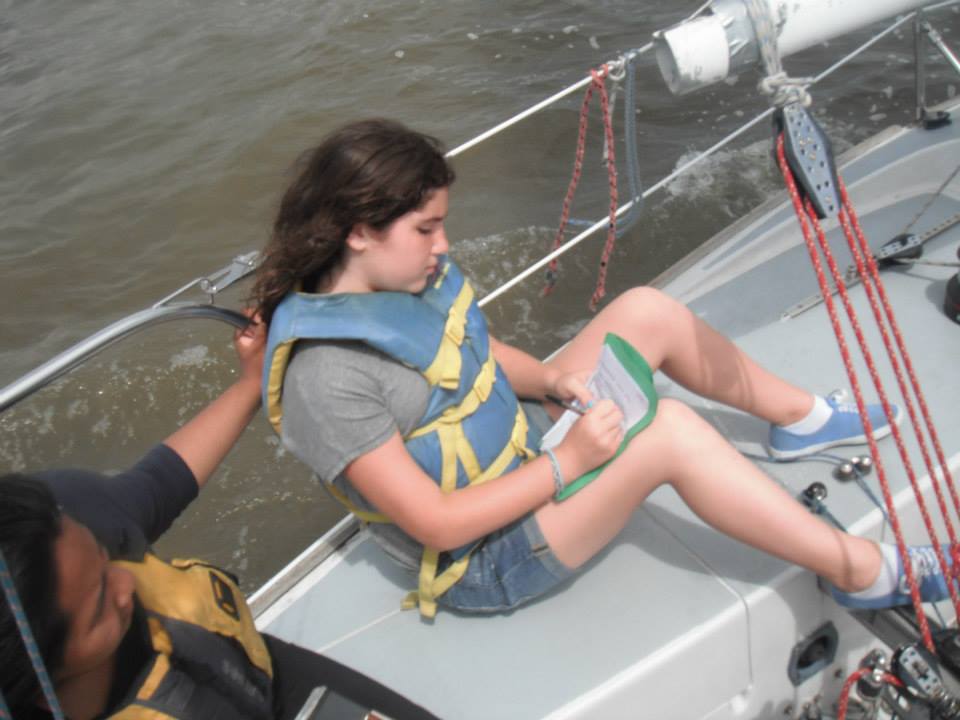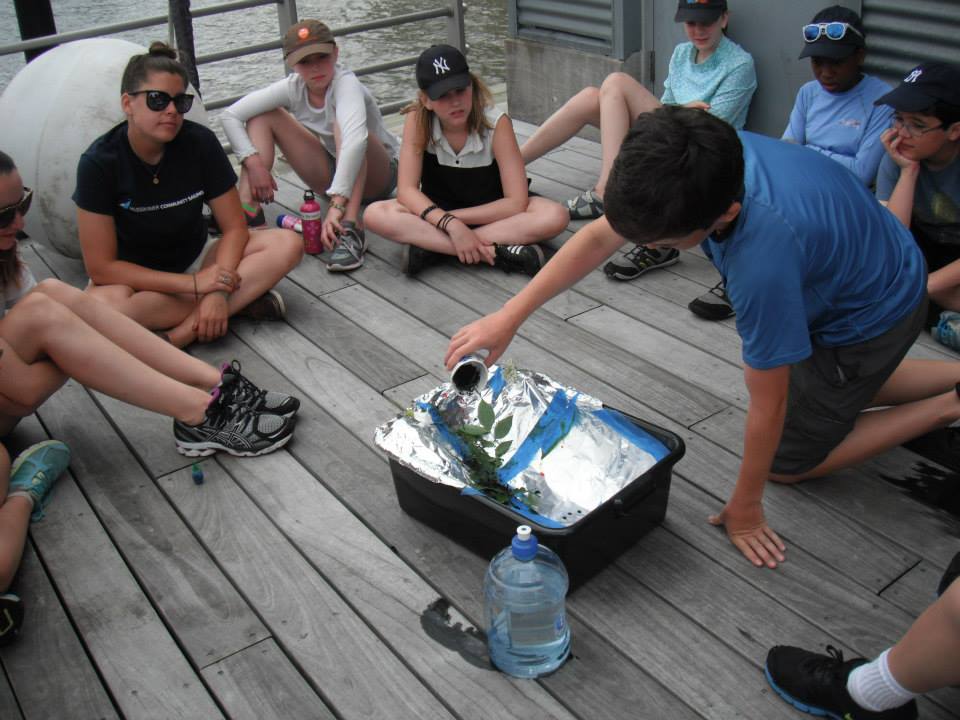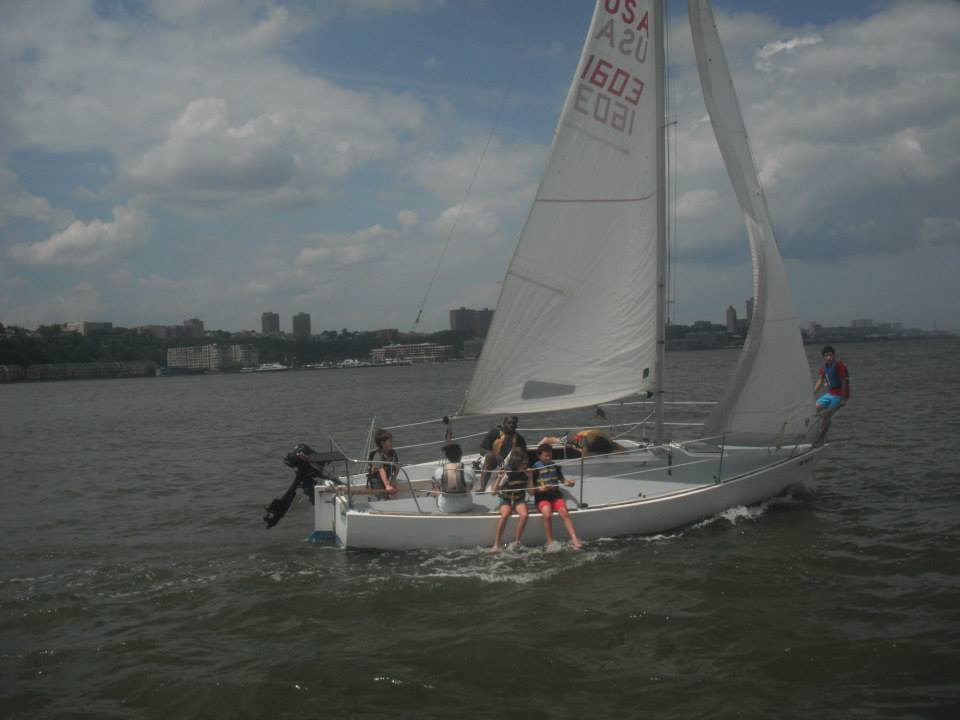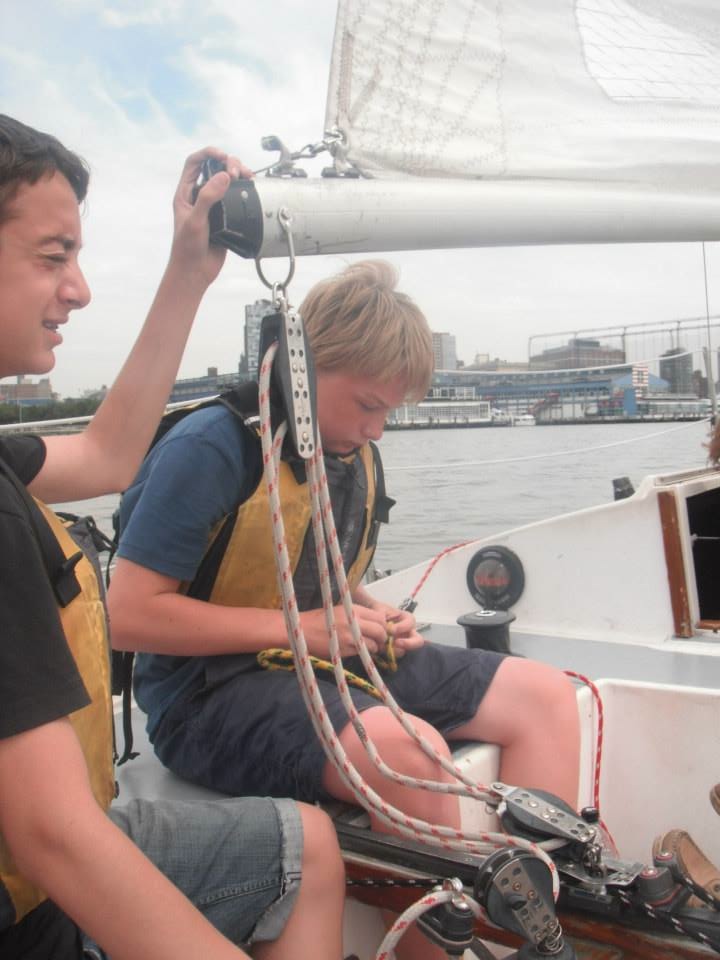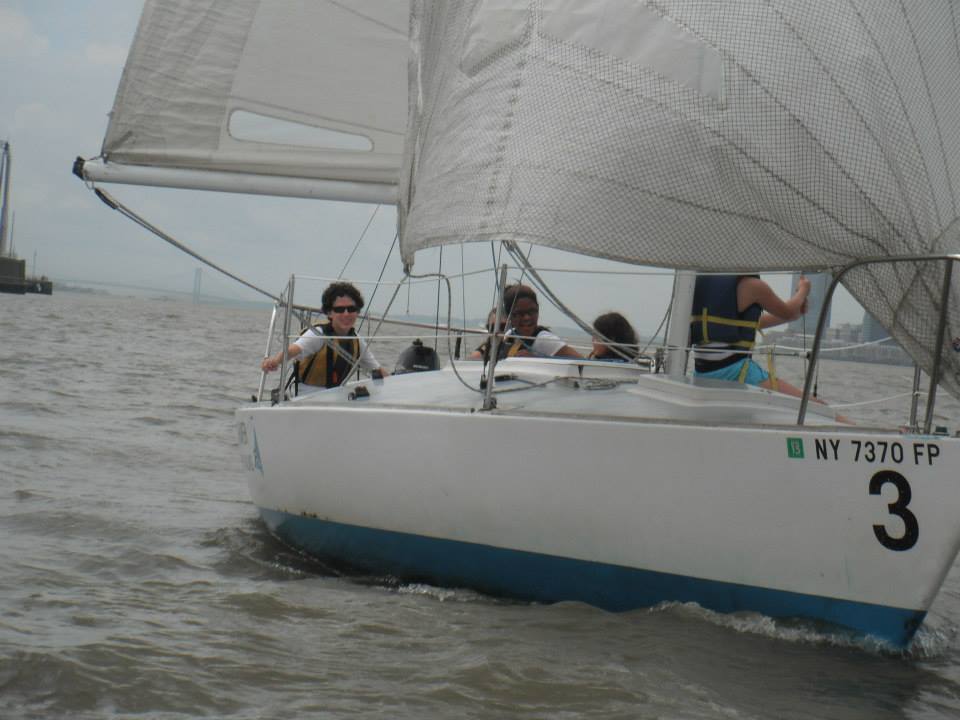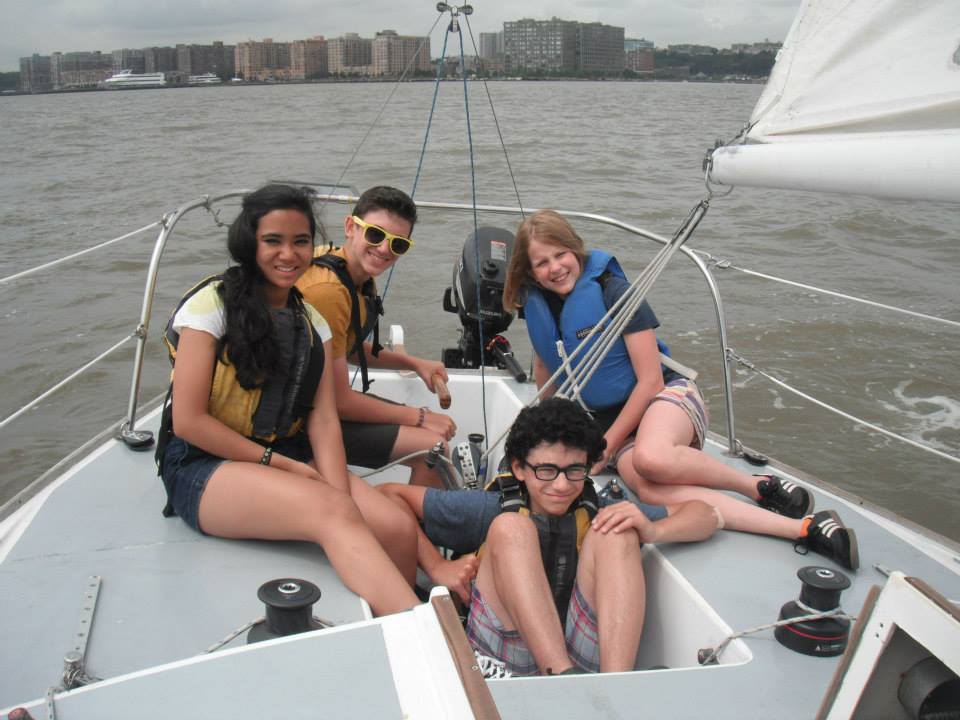 Students spend a week as a small crew learning to steer, navigate, control the sails, and calculate speed.  They also learn about the Hudson River and its marine environment.  Most importantly they learn about themselves. Many schools offer physical education credits for completing this program.
"I would tell any friend to join because it's really fun and how great it is to learn a new sport."
"It's so much fun, you learn something new and not everybody gets the chance to do that, it's a thrill!"
"You meet great new people and you will just learn to love sailing."
---
What:
Beyond simply learning to sail, students develop leadership, teamwork, communication, and craftsmanship
Five students per instructor
With school approval, credit in physical education given upon program completion
When:
Ten week-long sessions offered between June 23 - August 29, students may sign up for multiple weeks
Who:
Grades 6-11, students will be grouped in boats by grade/age
From all five boroughs, many different states and countries
No prerequisites to join - students do not need any type of sailing, boating, or swimming experience
Ten one-week sessions. Students are encouraged to attend multiple sessions to improve their sailing skills.
Session 1: June 23-27

Session 2: June 30 - July 3

Session 3: July 7-11


Session 4: July 14-18

Session 5: July 21-25
Session 6: July 28 - August 1


Session 7: August 4-8

Session 8: August 11-15

Session 9: August 18-22

Session 10: August 25-29
9am-4pm with a break for lunch. On Fridays, the program will culminate with either an expedition or a final regatta (sailing race), depending on tides and weather that week. 
9 am - Students and instructors assemble to discuss morning lesson/activity and schedule for day
930 am - Studentsand instructors head out to boats and rig up in preparation for sailing
10 am - Out on the water sailing, learning a specific aspect of sailing, taking a trip, racing, or playing a game
12 pm - Break for lunch, get some water, and rest out of the sun.  Play games on land and discuss the afternoon lesson/activity
1 pm - Back out on the water.  The afternoon is generally more fun, exciting, and relaxed than the morning with a game or race to improve students skills and help them work better as teams.
3 pm - Derigging the boats for the day
330 pm - Debriefing, discussing what we learned today and what we will learn tomorrow
4 pm - Time to head home and rest up for another great day tomorrow
Early drop-off and late pick-up are also available for an extra fee.
Students will be grouped by level. A student's level will be assessed throughout the program.
Beginner Level
Ever wanted to captain a sail boat? Be totally in control of a fast, fun, and exciting racing boat? Been sailing before but never knew how it worked or what rope to pull? Learn and do all this and more in the Beginner level.
Intermediate Level
As part of the Intermediate level, you can improve your existing skills to make yourself a better sailor and sailboat racer. Understanding how a sail and sailboat work will make you a more skilled sailor. This is your opportunity to race a 24 ft keelboat as part of a team against friends and peers.
Advanced Level
The advanced level is an opportunity for students who already sail at a high level to become top-flight sailors. Work with our best instructors to hone your skills and perfect your technique.
Fees:  $475/week
Early Drop-Off and Late Pick-Up:
8am Drop-Off - $100/week/child
5pm Pick-Up - $100/week/child
6pm Pick-Up - $175/week/child
How to Register:
Click on the button "Sign Up For City Sail 2014 (Online)".
Hudson River Community Sailing strives to serve a diverse student body.  We offer scholarships to families with documented need.  If you believe your family qualifies for a scholarship, fill out the 2014 City Sail Financial Assistance Application.