CITY SAIL
Weeklong Sailing Camp for Ages 9-17
Summer 2022: Registration is Now Open!
COVID-19 Vaccination Required for All Camp Attendees
After successfully incorporating CDC, American Camp Association, and US Sailing COVID-19 safety protocols around camper distance and hygiene in 2021, City Sail will continue to follow recommended guidelines. Students will sail in small groups and practice social distancing.
Teen Sailing Camp: New program for older students (ages 14-17)
Students will follow the US Sailing Basic Keelboat Curriculum and develop their leadership skills. Optional $50 fee to receive a US Sailing Basic Keelboat Book and Certification (multiple choice test required to obtain certification).
This program runs from 9:00 AM to 4:00 PM Monday-Friday. 
Register through the City Sail Registration link and select Teen Sailing Camp. 
If the session you would like is full, you may join the waitlist. 
Scholarships Available
Hudson River Community Sailing strives to serve a diverse student body. We offer scholarships to families with documented need through the Hollis Salzman and David Barry Memorial Scholarship Fund. This fund honors the lasting impact former HRCS Board Member Hollis Salzman and her husband David have on our community. Hollis and David were dedicated to the education of youth in our city, and believed all NYC young people could benefit from sailing. If you believe your family qualifies for a scholarship please click below to apply.
What is City Sail?
City Sail is HRCS's week-long sailing camp where kids escape the heat and noise of the city and enjoy the Hudson River.  Students learn new skills, make friends, build sailing knowledge, and have fun on the water! Students work in small groups with a dedicated instructor.
When is City Sail?
8 week-long summer sessions.
Students may sign up for multiple weeks. First-timers usually opt for 1-2 weeks and veterans go for 2-3 weeks. Options for early drop-off and late pick-up.
Who attends City Sail?
5th-11th grade (9-17 years old).  No boating or swimming experience required.
Where is City Sail?
City Sail is held at our Pier 66 Boat House as well as at Dyckman Street Marina.
Fees & Enrollment
Rates:

Base Fee: $695/week
Additional child: $665/week
8:00 AM Drop-Off: $125/week
5:00 PM Pick-Up: $125/week
Rescheduling and Cancellation:
Rescheduling - A session may be rescheduled prior to 14 days before the start date of the session for a $50 fee per camper.
Cancellation - A session may be cancelled and full refund received prior to 30 days before the start date of the session.
Frequently Asked Questions
1. How many weeks per camper?
We recommend two weeks to start. This will give students the opportunity to learn basic skills, and then reinforce those skills.
2. How old are most students in the program?
Age distribution varies by week. HRCS will divide activities and boat groups by age and experience level to ensure that students learn with peers.
3. Is each week the same? Will my child just be learning/experiencing the same thing twice?
Some activities are repeated each week in order to develop students' skills through repetition (and because we think they are effective). That being said, each week offers a whole new set of experiences. For example, the weekly trip alternates each week between southbound (NY Harbor, Statue of Liberty) and northbound (Palisades, George Washington Bridge).
4. What are the transportation options to City Sail?

Bike: Follow the Hudson River Greenway to Pier 66.
Train/Bus: Take the C,E, or 1 train to 23rd Street and then either take the M23 Bus to Chelsea Piers and walk up to 26th Street or walk from the subway to 26th Street and 12th Ave. If walking from the subway, cross 12th Ave at 26th Street, cross the bike path, and walk towards the water.  You will see our gray boat house.
Car: There is no drop-off directly adjacent to the facility. Families may park on 12th Ave or 26th Street (beware of the strict parking rules) and walk the student across 12th Ave to our boat house. For extended parking (ie. when signing in on Monday), use an area garage (closest are Chelsea Piers or 25th and 11th)
Note:  We do not offer home pick-up or drop-off services
5.  What do you do if there is bad weather?
We never cancel City Sail for bad weather. We will not go on the water if there are dangerous conditions (sustained winds above 20 knots or imminent lightning/thunder). Students will focus on land-based activities and games until conditions improve.
COVID-19 vaccination required for all camp attendees
Note: These policies will be updated based on CDC and American Camp Association guidelines.
This document is intended to augment HRCS general procedures and policies to provide additional specificity for the City Sail program. Those general policies and procedures include boats and facility cleaning, general social distancing procedures at the boathouse and on boat. They can be found on our website.
Smaller Groups: City Sail will work in small groups and in consistent cohorts (boat groups) throughout each session. Each group will consist of no more than 5 campers, 1 instructor, and 1 Junior Educator (counselor in training)
Students will follow the US Sailing Basic Keelboat Curriculum and develop their leadership skills. Optional $50 fee to receive a US Sailing Basic Keelboat Book and Certification (multiple choice test required to obtain certification).
Campers will wait outside the boathouse before check in and after check out, supervised by a staff member.
Reservations for early drop off and late pick up will be honored. These campers will work on independent activities with the assistance of a JE or program staff outside of the boathouse.
Pre-Camp Screening Form
This form is for parents to monitor student health throughout the two weeks prior to camp. It includes a daily temperature log that should be started 14 days prior to the camp start date.
Waiver: We have added COVID-19 specific language into our waiver. This waiver is required and sent to families once they register for City Sail. We will be screening waivers about a week before camp and checking COVID-19 Vaccination cards on the first day of camp. We will be checking the emergency contact information listed in the waiver about a week before camp. Parents can expect a phone call from our office number (212-924-1920) in that time frame.
Additional Required Equipment
Face Covering or Mask
Reusable Water Bottle
Lunch and Snacks
Sunscreen, hat, sunglasses.
A Backpack or closed bag to hold all camper belongings
Tracking and Reporting of Potential Covid Cases
HRCS will follow guidelines for contact tracing outlined by Johns Hopkins University.
HRCS will keep a record of each participant, who they sailed with, and which staff they had interaction with.
Staff or campers who show any symptoms of Covid-19 will be sent home immediately. Staff will be required to get tested, and participants strongly encouraged.
If a camper starts showing symptoms of Covid-19 while at City Sail, he or she will be sequestered from the rest of the group in the park with a staff member until a family member can pick them up. Symptoms include:

Fever at or above 100.5 degrees Fahrenheit.
Persistent cough, shortness of breath, or trouble breathing.
Muscle or body ache.
Campers who begin showing symptoms of Covid-19 before arriving to a day of camp should stay home and are encouraged to seek testing. There will be a pro-rated refund for days that sick campers miss.

If a camper tests positive for Covid-19 and is still in the mandatory isolation period for their illness upon the beginning of their scheduled City Sail week, they will be rescheduled given a refund if that is not feasible.
If a camper tests positive for Covid-19 and was at the boathouse during their infectious period, their instructor/skipper and the rest of their boat group will be notified, and it will be suggested they quarantine.

If a camper who has already attended camp tests positive for Covid-19, their instructor and the rest of their boat group will be notified and will be expected to complete 14 days of quarantine from the day of the exposure. Campers will be rescheduled for later in the season or given a full refund.

If a staff person tests positive for Covid-19 and was at the boathouse during their infectious period, all campers and staff they were in contact with would be notified and it will be suggested they quarantine.
Supplies/ Equipment
HRCS will provide supplies including soap, hand sanitizer, paper towels, cloth face coverings for staff, and no-touch trash cans.
Camper backpacks/bags will be stored with the camper at all times.
Boat Groups
Campers will be grouped into a discrete cohort based on age and skill level. The cohort will stay together for the  entire week and will be in the boathouse with only one other boat group at a time.
Requests for campers to sail with friends and/or siblings will be honored, however sailing with siblings is not mandatory (we know that not all siblings make the best crew-mates!).  Parents should email the camp leadership at citysail@hudsonsailing.org with any special grouping requests at least a week before the start of camp.
Special Needs and Accommodations
Please make HRCS aware of any special needs your child might have within the camp. We will do our best to meet the individual needs of all our campers.
Designated Point of Contact for Covid-19 Concerns and Other Issues
If parents, staff, or campers have any questions or concerns about City Sail's Covid-19 policies, or if they need to report symptoms, they should contact camp leadership at citysail@hudsonsailing.org If there is an urgent issue, call the HRCS office at (212) 924-1920.
---
Calendar & Schedule
City Sail runs for eight weeks. Students can sign up for one, two, or more weeks. Each week follows the same general structure, but specific lessons and activities vary from week to week, so that students who attend more than once never get bored.
"I can't tell you how much this means to me… as a single working parent, to know that every day with City Sail my teenager is involved in something meaningful to him in a beautiful setting on the Hudson. He's excited, learning, relaxing (all too rare for a city kid), and, most important, he's engaged."
- Former City Sail Parent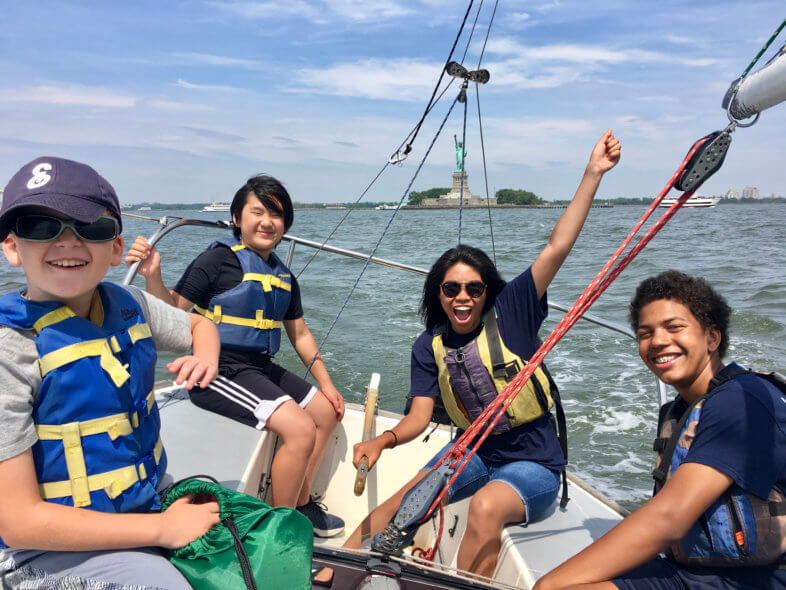 Cancellation & Rescheduling Policy