Over the course of four years, Sail Academy Chelsea students from HRCS's nine partner high schools learn to sail, build wooden boats, work as a team and build leadership skills. In addition to STEM-centered classwork and sailing education, students receive vital college access programming, job skills training and networking opportunities.
Year 1: Sailing by Numbers
Each fall approximately 90 new students join Sail Academy's first-year program Sailing by Numbers. Lessons incorporate math and social-emotional learning and include either a sailing or boatbuilding component. On a typical day, students might learn to measure current speed using an algebraic formula, and then test their calculations on the water.
Students participate in The New York State Safe Boating Course and earn Safe Boating certification. Additional certifications may include: First Aid, CPR & AED from the Red Cross. Sailing by Numbers students are eligible to earn school credit in math or physical education.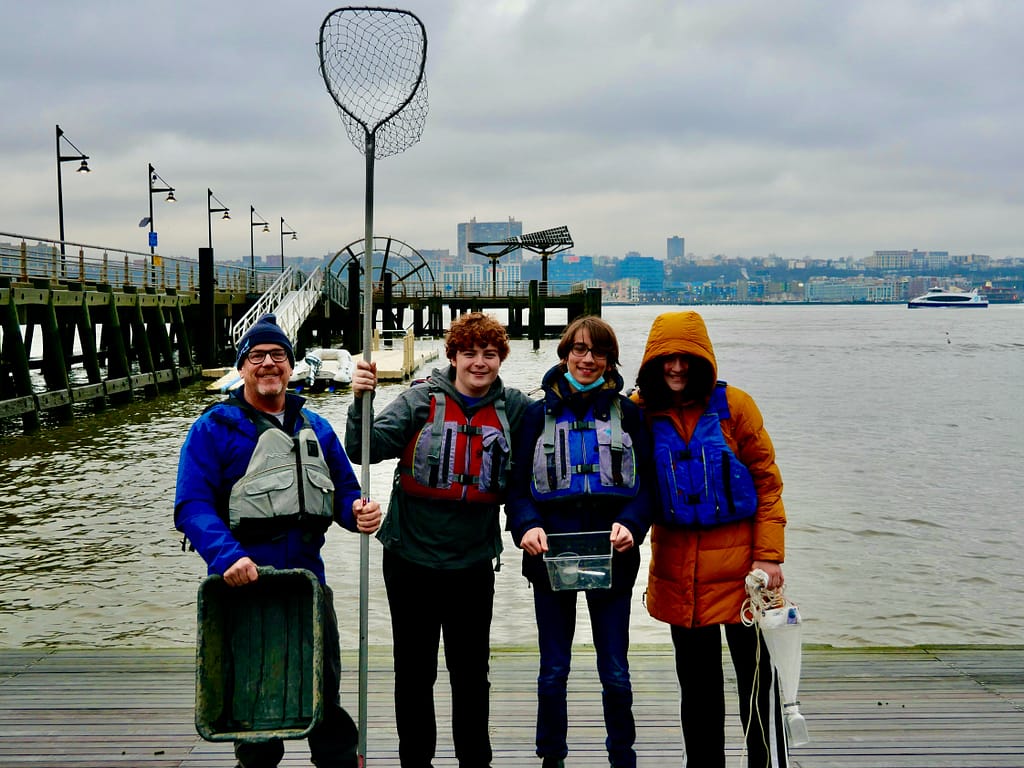 After completing their first year of Sail Academy, students continue to develop their skills in the second year program, Ocean Literacy. This program focuses on environmental science. Ocean Literacy students delve deeper into the ecology, oceanography, and meteorology that surrounds them on the river. Throughout the year, they also build on their expertise in sailing, boat maintenance, navigation, and leadership. Students are eligible to earn elective credit in science and physical education.
After successfully completing Year 2, students are eligible to be First Mates, focusing on the specialty they find most engaging. Students select a track of focus and build advanced skills and expertise in sailing, boat building and maintenance, environmental science, navigation, or racing.
With significant support from volunteers, First Mates receive ongoing mentoring, college preparation, homework support, paid internship opportunities, summer employment assistance, and career discovery. Students work 1:1 and in small groups with college access-trained staff to plan for college and prepare applications, and learn about career and other post-secondary opportunities.
Sail Academy's four-year internship program gives students valuable real-world experience working throughout the organization. The transformative program combines both social and technical skills and aims to prepare students to succeed in careers beyond HRCS.
In the summer after 9th grade students may join Leadership Intensive, a group internship focused on fostering leadership and communications skills. Second-year interns evolve from student to teacher as Junior Educators, assisting instructors and leading younger students at City Sail camp. 11th and 12th graders can enroll in the Intern Training Track where they support every department at HRCS, from co-running membership orientations to managing social media to running launch and repairing engines. These internships also provide crucial part-time income to students, allowing them to pay for personal expenses, save for college, and have some financial independence.
At this time, internships are available only to Sail Academy students.
Harvest Collegiate
High School for Environmental Studies
High School of Fashion Industries
Hudson High School
The James Baldwin School
Manhattan Business Academy
The NYC Lab School
The NYC Museum School
Quest to Learn
Don't see your school listed? Email info@hudsonsailing.org to get involved.
HRCS partners with schools that have 70% or more students that qualify for free or reduced lunch through Title I. We can arrange a contract if your school doesn't fall in this category.
Not enrolled at a Sail Academy partner school?
Your child or group can still get out on the water for sailing and STEM. Check out our Custom Group Offerings page.