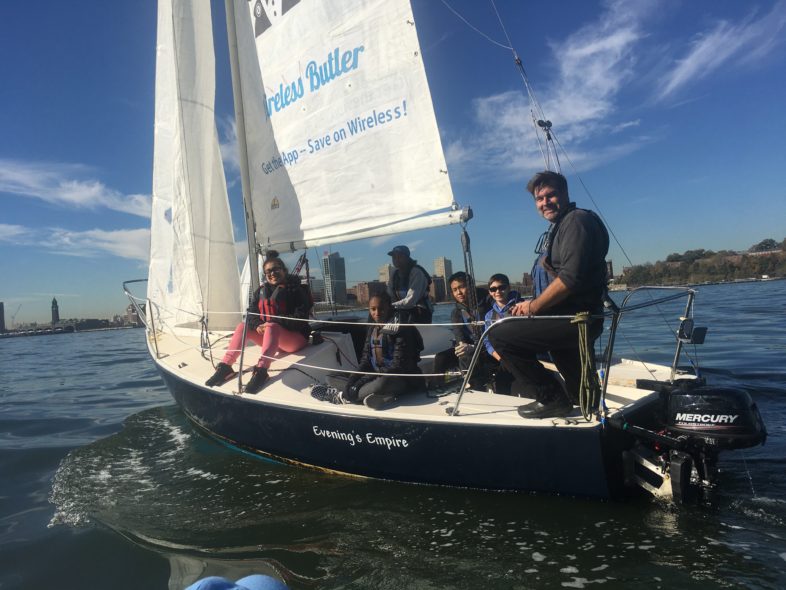 In A Nutshell
Founded in 2007 to serve the urban community, we partner with public schools to offer credit-bearing academic programs, internships, mentoring, and college readiness. Our youth development platform uses sailing, boat operation, and boat building to further academic skills and instill the qualities of character necessary for college and career success. We also serve the broader community through affordable marine education and recreation for individuals, groups, schools, businesses, and families.
Our Mission
Hudson River Community Sailing develops leadership and academic success in underserved New York City youth through sailing education and provides maritime education and recreation to the community at large.
Our Fleet of J24 Sailboats
We have 15 J/24s sailboats, the most popular keelboats in the world. They are small boats that are fast and sporty, while being stable and safe. The J/24 is typically crewed by 5 people. Get in on the fun and find out why the J/24 is a great boat to learn the ropes on!   We also own a small fleet of Hobie Cats and a 28' Precision pocket cruiser.
"Although I have learned so much about sailing, this program also greatly improved my social skills. I have become much more open, I have become a better leader, and most importantly I learned how to teach others the skills I have acquired. I did not immediately notice the changes occurring until the people around me commented on how much of a positive impact sailing and being part of this program had on me."
"It was great that I did this program because you learn so many different things…and it builds character, coming here, after school, in the snow, instead of going out with friends, to work on a boat, to help out…Colleges like to see you can stick with something for four years."
"I joined this program because my mother told me that girls do not belong on boats."
"I learned how to work together with people…even if you feel as though they won't comprehend the material…if you give them a chance to they may prove you wrong."
"I learned confidence in myself because I was able to try something new, sailing, and a different point of view of math from the sea, that I never really thought was real."
"HRCS has generously provided our students with vessels and sailing instruction of the highest quality. After years of partnership, we recognize that HRCS is unparalleled in its ability to teach New York City students sailing and engage them in on-water environmental activities."
"The Hudson River Community Sailing program holds their Winter Session in our school so I am fortunate to see their program in action. It is truly incredible. Students from different schools are enthusiastically working together to measure, cut, hammer, and do everything it takes to build boats. Student motivation is at it's all time high…We feel so fortunate to be a part of such an amazing program that truly provides students with a wholesome after school activity that is educational and invaluable."
"Hudson River Community Sailing embodies real maritime experiences for youth and adults alike in an environment where community access to the water is limited. I applaud them for a quality program."
"US Sailing prides itself on providing leadership, integrity and advancement for our sailors; all of which are shared objectives of Hudson River Community Sailing. HRCS has been a US Sailing Certified school since 2009, and provides high-quality sailing and marine education to the New York City community."
"I also have learned a great deal both professionally and personally from my fellow members on the art of sailing as well as more importantly the positive impact of trying to give back to the community. HRCS runs a great program with workshops and volunteering opportunities with the youth program which I also value."
"We're so delighted with everything she's learned in just 2 days. She's never been on a boat other than the Staten Island Ferry before so this is definitely out of her comfort zone. When I asked her what she likes about it she said "I just like sailing." Who knew?"
"Our son, Nick, has been in this program for 4 years and has learned all aspects of sailing. He has studied math and physics as it relates to sailing, and this has helped him in school. The kids build a boat in the winter, and then sail it in the spring. This is such an amazing program for inner city kids."
"I can't tell you how much this means to me… as a single working parent, to know that every day with City Sail my teenager is involved in something meaningful to him… in a beautiful setting on the Hudson. He's excited, learning, relaxing (all too rare for a city kid), and, most important, he's engaged— pooling and building upon his efforts with other kids to sail a boat, and to experience and enjoy the results."