Sailing for Scholars Gala & Regatta
October 19-23, 2022
Sailing for Scholars Gala / The Model Room at The New York Yacht Club
October 19, 2022
Sailing for Scholars is Hudson River Community Sailing's annual fundraising gala to support STEM and leadership development for NYC public school students and provide maritime access to New Yorkers of all abilities. This year's event will be held at the New York Yacht Club and includes a silent auction, special guests, and other surprises. The fun continues on Saturday and Sunday as teams race in a two-day regatta. Your support will help HRCS strengthen its foundation and build for the future.
Join us for a great weekend supporting a great cause!
Honoring
Capt. Zeita Merchant & Dr. Stacy Blain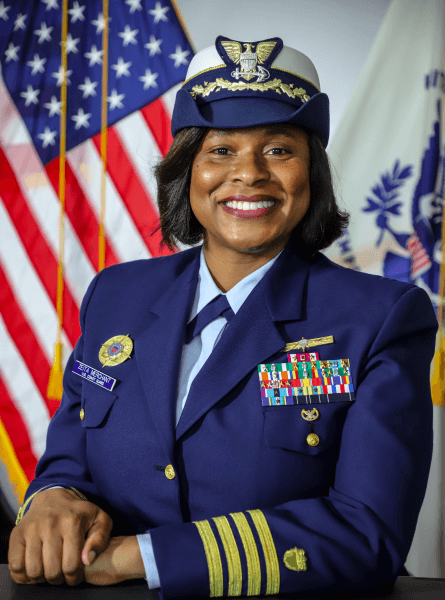 Capt. Zeita Merchant
Sector Commander/Captain of the Port of NY/NJ U.S. Coast Guard Sector New York
Captain Merchant assumed command in May 2021, and directs all Coast Guard missions in the Port of New York and New Jersey. She is responsible for ensuring the safety and security of one of the Nation's busiest and most economically important port complexes.
Prior to joining Sector New York as Deputy Sector Commander in 2020, Captain Merchant was a National Security Fellow at Harvard University's Belfer Center for Science and International Affairs. Enjoying over 24 years of active duty service, Captain Merchant is a recognized authority in maritime safety and security, and crisis management.
Dr. Stacy Blain
Co-founder, Chief Scientific Officer, and acting CEO of Concarlo Therapeutics
Dr. Blain is an internationally known expert in cell cycle and cancer biology. She has been studying cell cycle regulation for more than 25 years as an NIH funded investigator and tenured Associate Professor at the SUNY Downstate Medical Center.
She founded Concarlo, capitalizing on discoveries she made and patented. She was trained at Princeton, Columbia and the Memorial Sloan-Kettering Cancer Center.
A lifetime sailor, Dr. Blain learned to sail at Chester (Nova Scotia) Yacht Club, along with the last 6 generations of her family. Two of her sons are members of the US National Sailing Team.
Sailing for Scholars Regatta / Dyckman Marina, Inwood
October 22-23, 2022
With racing all weekend long, teams compete both on the water and to raise the most money in support of Hudson River Community Sailing's innovative youth development and maritime access programs. Winners are announced at a post-event reception at The Hudson. Donate below to support your favorite team or racer! Not sure which team to support? HRCS's youth racing team, the Sea Dragons, is looking strong this year!
Interested in fielding a team? Teams sign up to raise $5,000 (J/24) or $10,000 (J/80), get professional coaching, and compete in the two-day regatta. Contact Maeve Gately at mgately@hudsonsailing.org for more information.
13th Annual Sailing for Scholars Committee
Mark Horowitz, Chair
Craig Appleman
Quemuel Arroyo
Thomas Bourveau
Robert Burke & Betty Schlicht
Erin Byrne
Matt Coudert
Molly Doherty
Alex Egan & Celene Menschel
Nelson Garcez
Olivia Gassner
William Grassie
Meegan Hollywood
Stuart Israel & Tia Bowman
Raj Iyer
Alice Lurain
Tom Lynch
Randy Medrano
Samantha Paradise
Barry Pool
Alyce Russo & Steve Schall
Anne Truong
Alex Valcic & Jeph Tausig
Thank you to our sponsors!