Interested applicants should contact us via email at jobs@hudsonsailing.org. Please put the position you are applying for in the subject line, and include a relevant resume and cover letter detailing your interest in the position.
Founded in 2008, Hudson River Community Sailing partners with public schools to offer credit-bearing afterschool programming, internships, mentoring, and college readiness. Our youth development platform uses sailing, boat operation, and boat building to further academic skills and instill the qualities of character necessary for college and career success. HRCS also serves the broader community through affordable marine education and recreation for individuals, groups, schools, businesses, and families. HRCS is a US Sailing School, and offers basic keelboat and other courses from April through October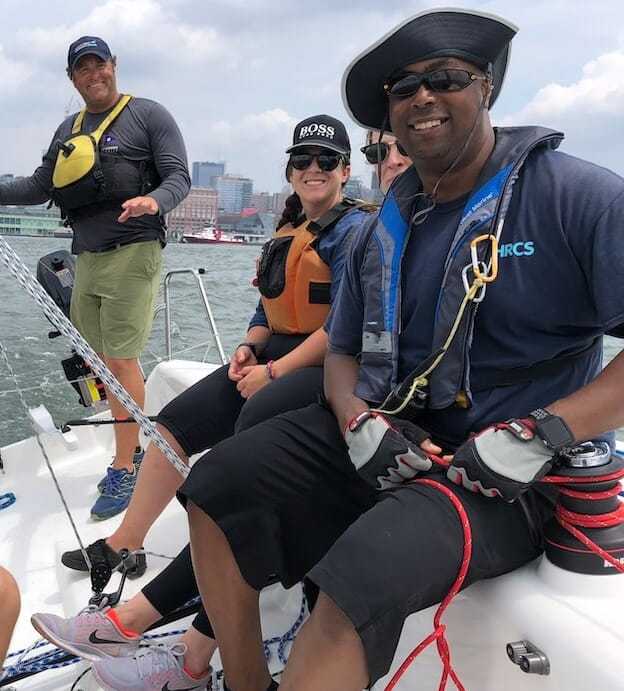 Your work will truly improve the lives of New Yorkers as you help us achieve our mission.
There is a strong sense of community amongst staff, students, and members. We believe learning happens best when people feel safe, comfortable, and part of something great.
We have the best educators in NYC, and are committed to staff development and growth.
Interested applicants please email a relevant resume and cover letter detailing your interest to jobs@hudsonsailing.org. Please put the position you are applying for in the subject line.
Responsibilities
DURATION & SEASONALITY - Work is available weekdays and weekends ranging from 5-40 hours based on season, your availability, and position.
TRAINING - Training is mandatory and paid.
BOAT TYPE & GEOGRAPHIC LOCATION - Sailing occurs on J/24s and J/80s in New York Harbor - an active, working waterfront with considerable commercial traffic (ferries, barges, etc), and strong tidal currents. We sail out of Pier 66 and Dyckman Street Marina.
YOUTH SAILING PROGRAMS - In the Spring (April through June) and Fall (September through November) we run an accredited after school program teaching the math and science behind sailing. Positions are Mon-Fri 20-30 hours per week. In Summer (June through August) we run a 5 day sailing camp with elements of math and science.  Positions are Mon-Fri 15-40 hours per week.
ADULT SAILING PROGRAMS - In Spring, Summer, and Fall, adult programs include Lessons, Excursions, and Corporate/Group events. Positions are 4-40 hours per week, including weekends and evenings.
Required
Experience operating a keelboat with multiple passengers in an active waterfront.
Experience teaching, leading, or counseling.
Availability to work evenings and/or weekends when necessary.
Preferred Certifications (Courses may be offered for these certifications if candidates are not already certified.  Organization can help in acquiring once hired.)
First Aid and CPR certifications
US Coast Guard Captains License
US Sailing Basic Keelboat Instructor Certification
Instructor Skills
Proficient sailor
Ability to recognize the inherent risks involved in each activity and continually assess and adjust programming accordingly.
Ability to conduct  all activities according to the policies, procedures and practices that guide the program plan.
Compensation
$24-$28 an hour, depending on experience
To Apply:
Send resume and cover letter to jobs@hudsonsailing.org, with "Sailing Instructor" in the subject line.
HRCS is an equal opportunity and affirmative action employer committed to assembling a diverse, broadly trained staff. Women, minorities, people with disabilities and veterans are strongly encouraged to apply.