Hudson River Community Sailing strives to create a diverse, equitable and inclusive environment welcoming to all. Sailing as a sport has not been inclusive, and reflects the social and racial inequity of our society. We are committed to building a diverse community where everyone is respected, empowered, and supported in their growth. This work is ongoing and below are just a few of the steps we are taking.
We always value the feedback and input of our community. If you would like to learn more, have suggestions for potential partnerships, or want to share your experience with us, please email info@hudsonsailing.org.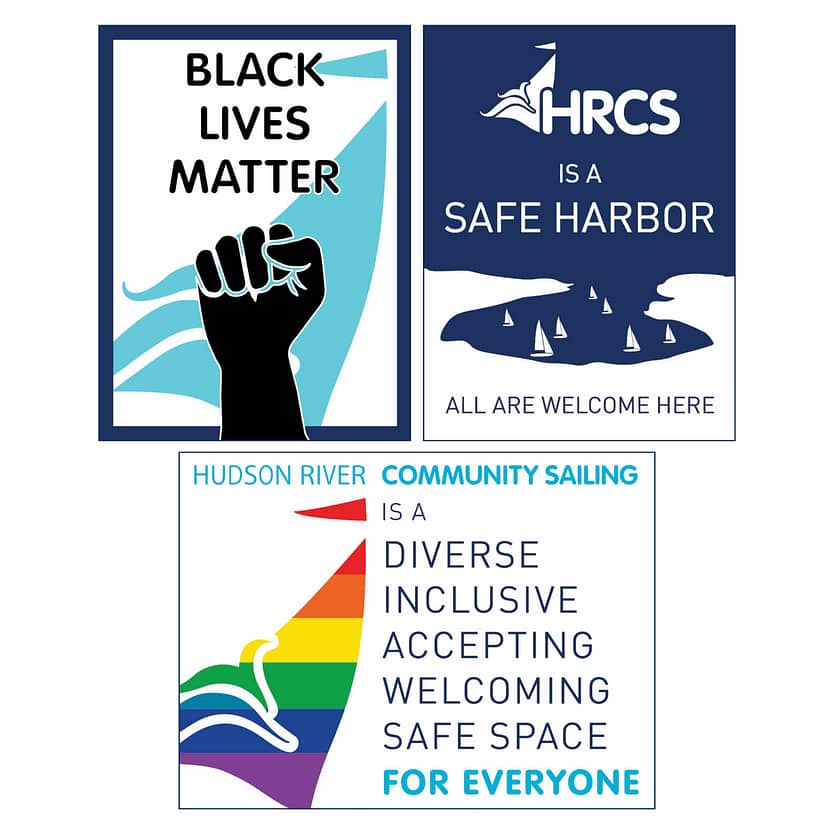 Diversity, Equity & Inclusion at HRCS
The HRCS staff and board are taking targeted steps to help make the organization and its programs a more diverse, equitable, and inclusive place for all of our participants. HRCS is an organization founded on the dual mission to close the achievement gap between young people from under-resourced schools and their more affluent peers, and to provide equitable waterfront access for all New Yorkers. These principals have always been core to our work.
Key components
Full-time staff attended a daylong anti-racism training and discussed how to incorporate our takeaways into program design.
Designed and placed banners (pictured at left) in the boathouse to make it a more welcoming space.
Launched a gender equity committee to focus on closing the gender gap, and training more female skippers.
Partnered with "Shades of Black Making Waves" to introduce more people of color to the sport.
Created a Board Development and Governance Committee that will oversee diversity, equity, and inclusion goal.
Piloted a boatbuilding curriculum that focuses on non-colonial boat designs and the many communities of color that have traditional roots in sailing.
We hope your experience at HRCS is a welcoming and positive one. Please let us know your thoughts by filling out the survey at the end of your sail or emailing us at info@hudsonsailing.org. Thank you!