Robert Burke
Executive Director
Robert has spent his career in experiential and adventure education, youth development, and non-profit management. He has taught sailing and climbing throughout the US, and enjoys providing young people opportunities to explore and challenge themselves. Robert has a strong interest in the natural and human history of the Hudson River, and has kayaked or sailed most of its tidal length. Robert holds degrees in English and Education from Fordham University. He holds a US Coast Guard 50-Ton Master's License, and has been a NY State Guide since 1992. Mr. Burke sits on the NYC Outward Bound Safety Committee, after working as the Program and Safety Director there form 2002-12.
Don Rotzien
Community Sailing Director
Since joining HRCS in 2014, Don has managed HRCS's racing, adaptive sailing, and special events programming, in addition to other capacity-building initiatives. Don was the General Manager of Greenwich Community Sailing from 2007-2013, is a US Sailing national faculty member and was honored to receive US Sailing's Excellence in Instruction award in 2016. Don has spent over 15 years working as a professional in the field organizing and educating thousands of students and sailors.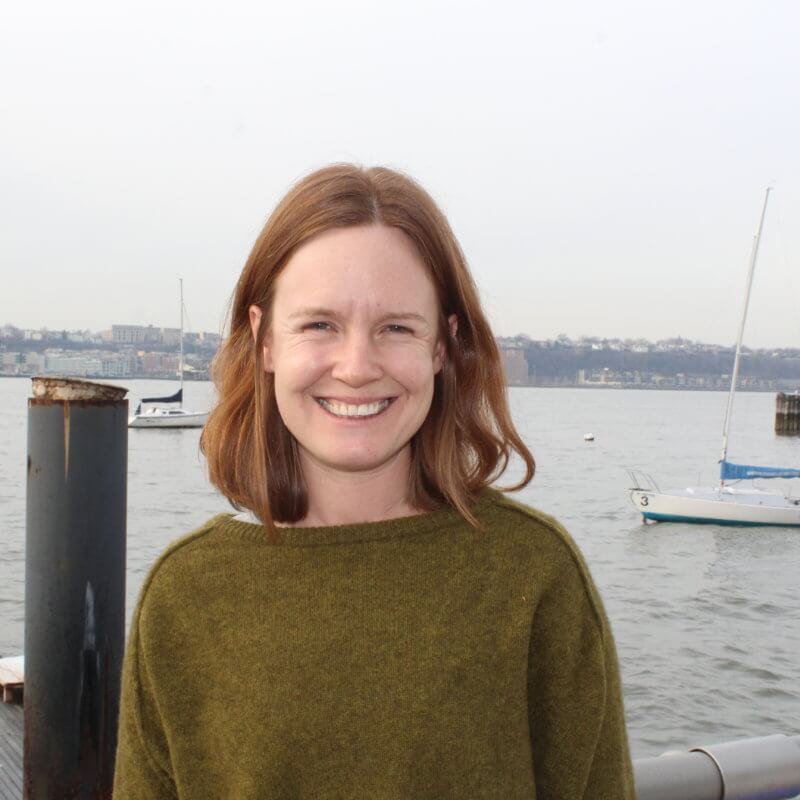 Maeve Gately
Development Director
Maeve Gately joined HRCS as a sailing instructor in 2014 while she was getting her Master's in Journalism from Columbia University. She quickly fell in love with the organization, and decided to stay on as Director of Development and Communications after graduation. Maeve works with Robert to manage the organization's grants, events, and communications. On occasion, she teaches college essay workshops and gets to take students sailing
Mwenye Seville
Youth Development Director
Mwenye is from Trenton, NJ where he is a member of the Board of Directors for The Granville Academy of NJ. He has been working in education since 1997 and has worked at The Princeton-Blairstown Center as a instructor and program coordinator. He has also worked at NYC Outward Bound schools since 2005 as an instructor and course director as well as site manager for high challenge courses. Mwenye holds a US Coast Guard OUPV license as well as Basic Keelboat Instructor Certification from U.S. Sailing. He is a certified First Aid and CPR/AED Instructor for the Red Cross as well as a Safe Boating instructor for NY State Parks Department. He has worked as a substitute teacher and has volunteered as a tutor and mentor for various programs in NJ and NYC. In total, he has been working with youth for over 20 years.
Alexe Taylor
Youth Sailing Director
Alexe grew up in southern New Hampshire sailing on the Piscataqua River, whose name means rapid waters in Abenaki. It is one of the few places in the US with more tidal current than the Hudson! Alexe has sailed Tall ships and small ships, in Maine, and in the rain. But after graduating from NYU with a degree in History she came to HRCS to share her passion for science and experiential education with a new generation of sailors. Alexe oversees the Ocean Literacy program, an environmental science course where students in their second year at HRCS hone their sailing skills and learn more about the estuarine ecosystem. She also coordinates the youth racing program and City Sail summer camp. Alexe is a certified USCG Captain, US Sailing Basic Keelboat Instructor, and US Powerboating Safe Powerboat Handling Instructor.
Leo Martinez
Alumni and Program Coordinator
Leo Martinez grew up on the Upper West Side of New York City and was part of the first cohort of students to graduate from Sail Academy in 2014. He attended The State University of New York at Potsdam majoring in Business Administration and minoring in Mathematics. Through college, he spent his summers working part-time in our Operations department and has since transitioned over to working full-time in our Youth Development department. Some of his responsibilities include building out an alumni program, leading Building Track, providing leadership in our Internship Track, coordinating our Inwood youth programs, and leading our summer STEM in the City program. Leo holds a US Sailing Basic Keelboat Instructor Certification and a US Coast Guard Masters License. Leo has a passion for working with youth and hopes to inspire and assist students in developing/enhancing sailing, woodworking, and interpersonal skills. Outside of teaching Leo enjoys hiking, exploring the world, woodworking, and learning languages.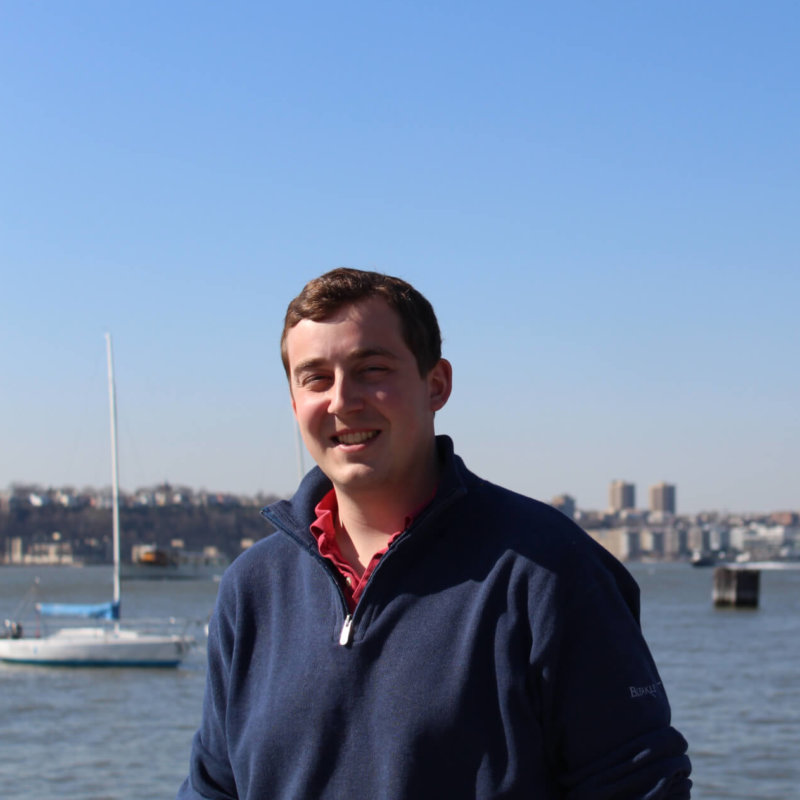 Conor Murphy
Public Program Coordinator
Conor grew up in Old Greenwich, CT, sailing dinghies out of Greenwich Community Sailing, where he later became an instructor. He became the Operations Manager at GCS in the summer of 2014 and later served as the Program Director at GCS's sister school, Longshore Sailing School, in 2017. A 2013 graduate from Dartmouth College with a degree in History and Environmental Studies, Conor spends his time off the water playing in a local soccer league.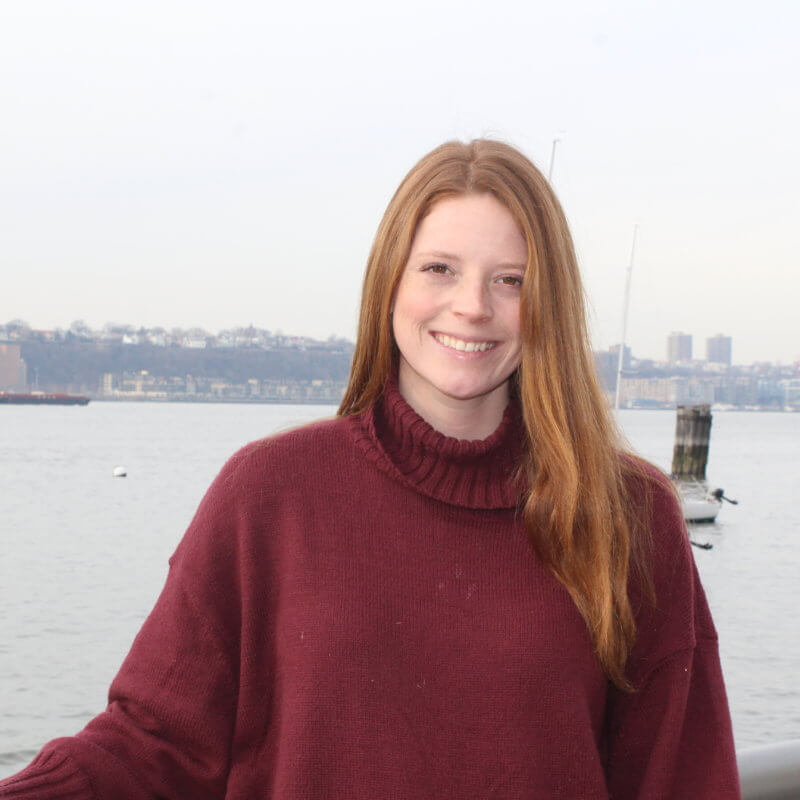 Julia Miller
Development and Volunteer Coordinator
Julia is originally from Westfield, NJ and she grew up sailing on the Barnegat Bay at the Lavallette Yacht Club. She graduated from Fordham University in 2017, where she studied Communications and Spanish Studies with a concentration in Visual Arts. After graduation, Julia was a City Sail instructor at HRCS before moving to Spain to teach English in Murcia.Julia returned to HRCS in January 2018 on the Development Communication team.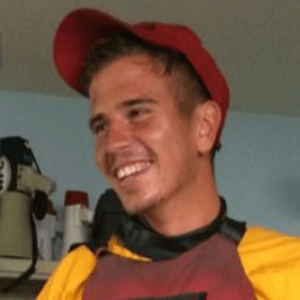 Alec Basilion
Fleet and Operations Manager
Alec grew up on the north shore of Long Island, where he spent his summers sailing at his local yacht club. Upon turning 18 he began to instruct, coach, and manage sailing programs up and down Long Island Sound. He attended SUNY Albany for public law and philosophy but just could not stay away from boats and the sailing industry for too long. After graduation he devoted all of his time to the mission of community sailing at the Waterfront Center in Oyster Bay. He then attended the International Yacht Restoration School (IYRS) in Newport, RI for advanced composites fabrication and repair. Alec brings his unique set of skills as a certified composites boat builder and experienced sailing educator to fill the role of Fleet and Operations Manager here at HRCS.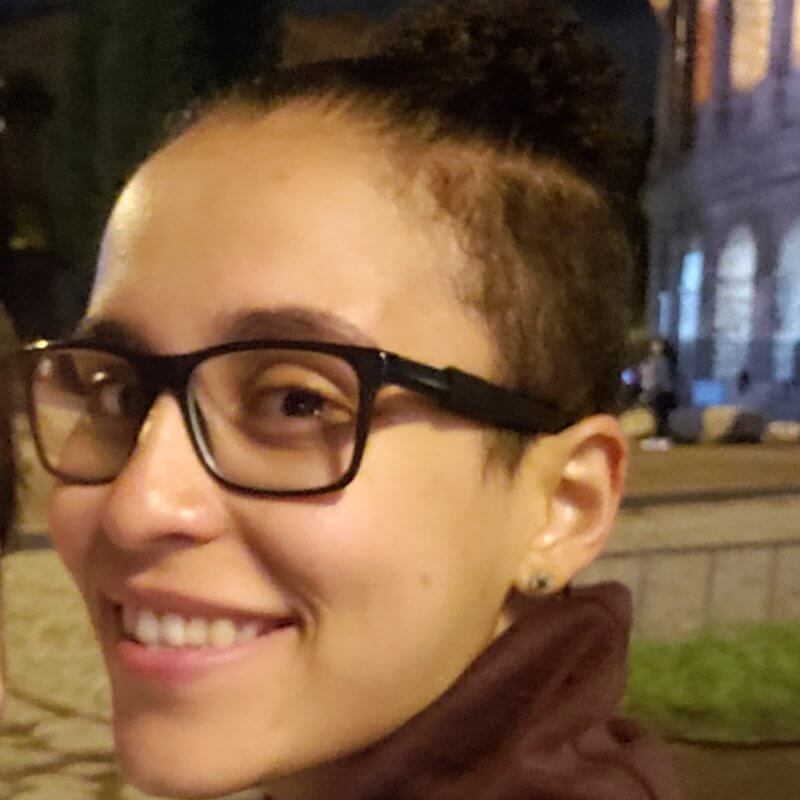 Emily Martinez
Program Coordinator
Emily is a Bronx native who discovered her love for sailing after joining a non profit organization in the south Bronx called Rocking the Boat. She first attended the program as a high-school student, learning how to row and sail wooden boats. During college Emily became a program assistant, who was then able to teach the newer students everything she learned during her own time as a student. At that point, Rocking the Boat was able to upgrade to more modern sailboats instead of the wooden ones that were built in the shop. As a program assistant, Emily has taken courses at SUNY Maritime for her Basic Keelboat certification and safe powerboat handling certificate. After Graduating college with a degree in Sociology, Emily decided to venture into other fields of work and stopped working with students and boats altogether. Not surprisingly, no other job seemed as exciting or fulfilling. Emily hopes to not only get back in touch with her inner aquatic self, but to further her skill set while educating youth at HRCS.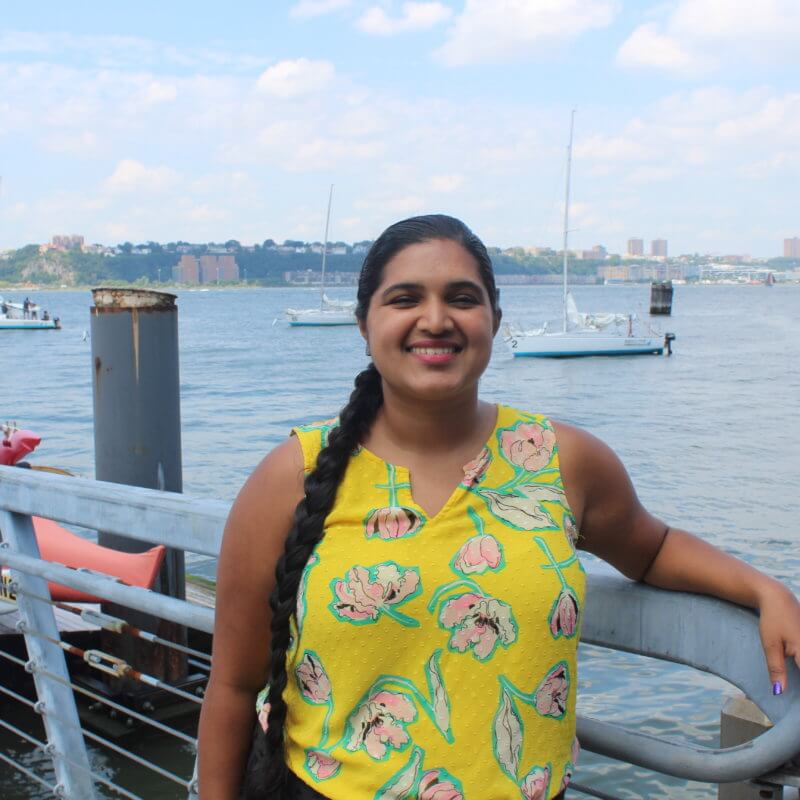 Sunaina Rao
Youth Academic Director
Sunaina was born in India and grew up primarily in Northern California. She came to New York to complete a second AmeriCorps year. She holds a degree in Anthropology from UCLA and a M.S. in Nonprofit Management from The New School. She has worked in youth development and community engagement for over 10 years, starting off as a instructor at her karate school while in High School. Outside of HRCS she sits on the board of The Octavia Project.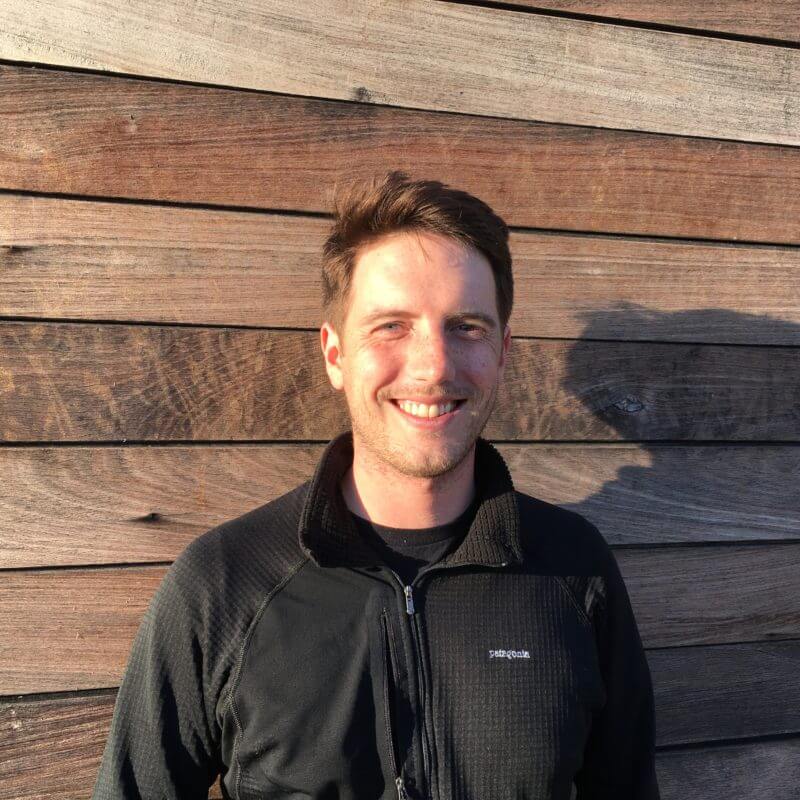 Will Culver
Inwood Manager
Will grew up in West Newbury, Massachusetts and learned to sail on the Merrimack River and the Gulf of Maine. He taught youth sailing at a local yacht club for ten summers and has crewed on voyages to Maine and Nova Scotia. After studying history and literature at Hampshire College, Will moved to New York to pursue his interests in sailing and education.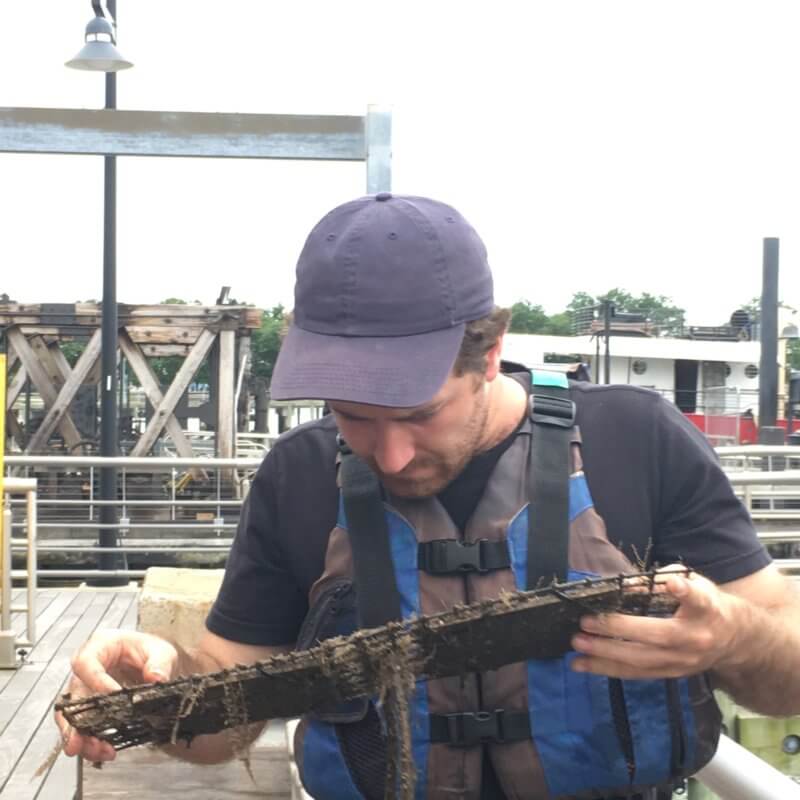 Russell Jacobs
Program Coordiantor
Russell is a Brooklyn-raised nature guy and a lifelong sailor. A hiker, fisherman, and devoted Mets fan, he spends his time outside—surf-casting from local beaches, exploring nearby waterways and forests, and writing about the ecological history of his home city. He taught sailing on the Great South Bay from a young age, and is thrilled to be at HRCS, working on New York Harbor. He hopes that by passing along what he knows he'll help other New Yorkers get in touch with their natural surroundings.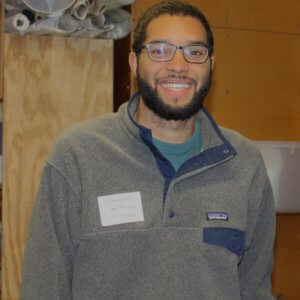 Anthony Velez
Operations and Boathouse Manager
Anthony joined HRCS as part of the first graduating class of Sail Academy students and is a 2014 graduate of Oakcliff's Offshore Acorn program. He attended SUNY Potsdam and worked as part of HRCS's operations department throughout high school and college. After college Anthony joined HRCS full-time as our Boathouse and Operations Manager helping ensure smooth operation of our facility and fleet. Anthony holds a US Sailing Basic Keelboat Instructor Certification and occasionally serves as an instructor. Outside of HRCS Anthony enjoys learning Web Development and the process of building innovative web applications.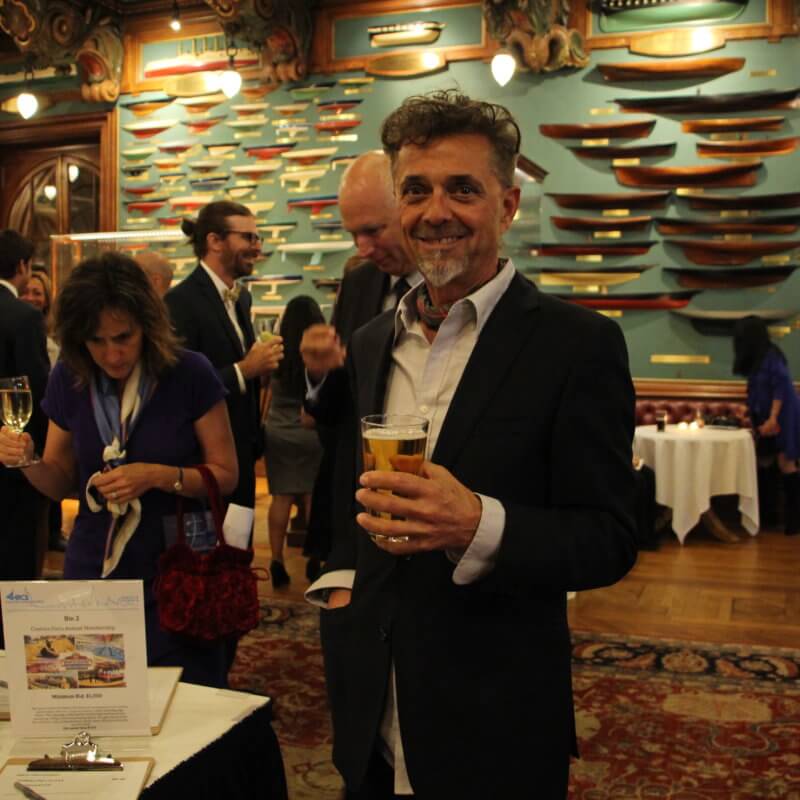 Jonathan Mercado
Soldiers Under Sail Program Coordinator and Sailing Educator
Captain Jonathan G. Mercado holds a USCG 100 Ton Master's license, an MCA 200 Ton Master of Yachts license and is a US Sailing certified Keelboat instructor. In 2005 Jonathan left his career as an IT Department head, moved to the Eastern Caribbean, bought a sailboat, and sailed in the Lesser Antilles for a few years (including a solo sail from St. Maarten to Newport RI). Jonathan started his professional sailing career as a 'Senior WatchKeeper' and continued on as a 1st Officer aboard Mega Yachts, sailing the French and Italian Riviera.When Jonathan isn't teaching at HRCS he can be fond aboard his 36-foot ketch -- the 'Eloise Belle'.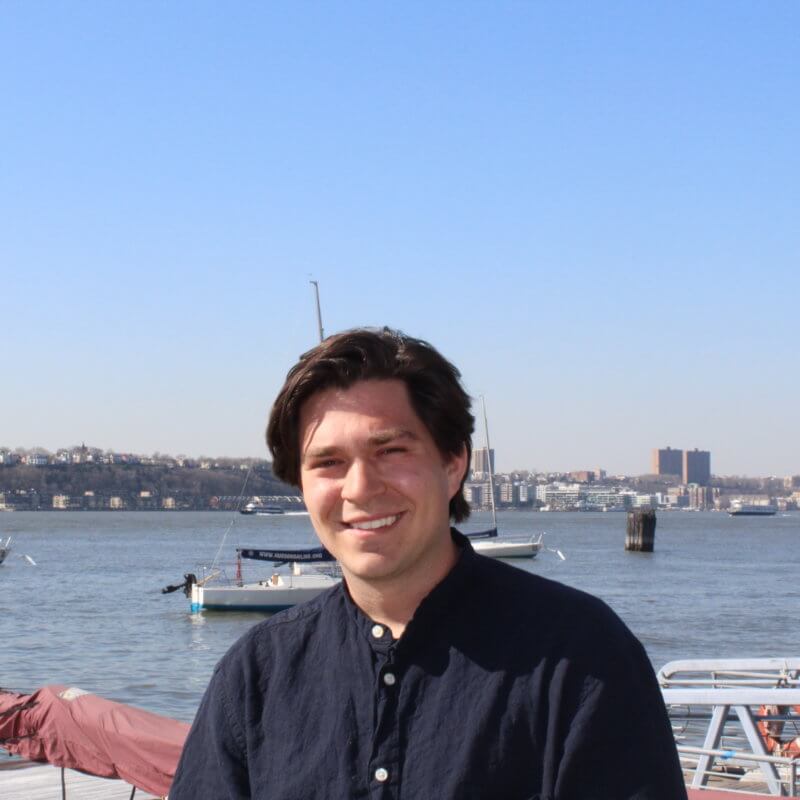 Andy Sold
Membership Coordinator
Andy learned to sail on the majestic Hudson River in Croton on Hudson, NY. He has twelve years of experience teaching sailing on 420's, Rainbow 24's, Melges 24's, J80's and Pearson 26's. He graduated from Oberlin College in 2012 with a degree in Theater and Chemistry. He is a licensed Coast Guard captain and US Sailing Certified Keelboat Instructor. His aspirations include running an aquaponic vegetable and fish farm in the American Southwest, and owning a multimedia performance venue. He is excited to help grow the community of mariners, and spend many more years trading knowledge of sailing in New York Harbor.
Brook Aquilino
Sailing Educator
Brook grew up sailing on Narragansett Bay. Since then he has owned and sailed, as he says, "A fleet of sailboats", including a wooden schooner. He recently completed a transatlantic crossing onboard a 49' sloop. He holds a Master's 50 GRT Near Coastal license and is looking forward to a great season sailing with HRCS.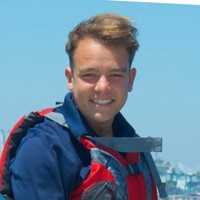 Will Nodvik
Sailing Educator
Will spent most of his time on the water in Southern California sailing, surfing, and diving. He sailed out of LA Harbor and raced with his high school team up and down the California coast. Will has coached youth dinghies and raced PHRF and one design with his program. During his gap year he worked at an entertainment start-up focused on getting kids excited about STEM + art (STEAM), while racing with a Farr 40 team on the West Coast. Outside of sailing, will studies Computer Engineering at NYU and dabbles in surfboard shaping.
Jay Baum
Sailing Educator
Jay started sailing Sailfish with his father when he was 8 and was a sailing instructor on Lake Wentworth, NH at 16. Moving up to larger boats, Jay has been sailing keelboats since 1995 and joined HRCS as a captain in 2013, winning the prestigious Henry Hudson Award in 2014. Jay has sailed with the First Mates, and worked on numerous maintenance projects with HRCS. In his spare time, he is a manufacturing operations consultant.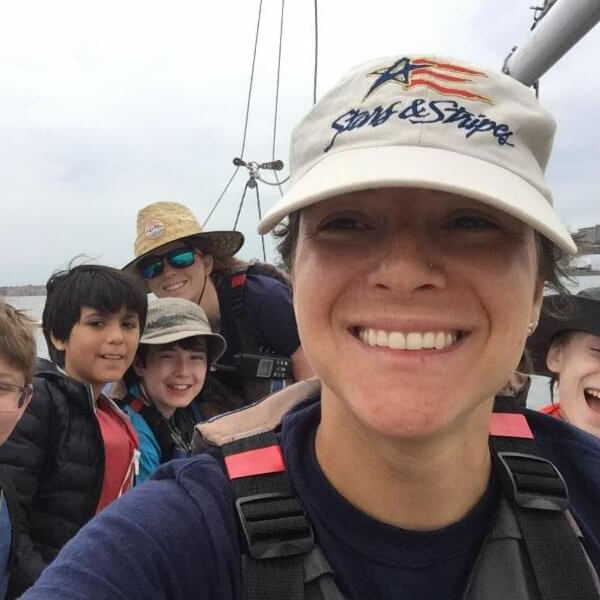 Carrie Morea
Head Sailing Instructor - City Sail
Carrie is returning to City Sail this summer as the Head Instructor. She grew up sailing on the Long Island Sound through the Junior Sailing Association (JSA) where she competed in 420s. When she aged out of JSA, she began coaching and fell in love with the job. For the past 13 years, she has coached on the Long Island Sound, Charles River in Boston, and now on the Hudson River. She recently graduated with a Master's in School Counseling and looks forward to providing a safe place for students and start her career in education. Outside of coaching, Carrie enjoys skiing, hiking, traveling, cooking, and exploring the City.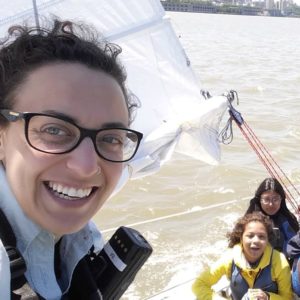 Hannah Belsky
Sailing Educator
Hannah is a lifelong sailing enthusiast, equally content helming in a fast-paced race or sailing off into the sunset in a gentle breeze. She has taught sailing to youth and adults in Maine and California and brings her passion for experiential learning and outdoor education. After several years working as a wilderness expedition leader and group challenge facilitator, Hannah most recently brought together college-aged students from around the world in online cross-cultural exchanges through the nonprofit Soliya. She is a graduate of Smith College and is currently pursuing her Masters in Business Administration at New York University.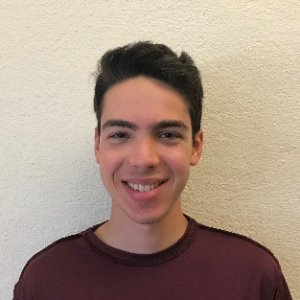 Linus Levey
Sailing Educator
Linus has been involved with HRCS for over 5 years. He is a Sail Academy alum from Lab High School, and has been working in the operations department for the past 2 years. He's currently the Fleet Operations Assistant and is looking forward to also working with City Sail. Linus is a rising sophomore at Stony Brook University and is majoring in Environmental design, policy, and planning.
Chris Duda
Sailing Educator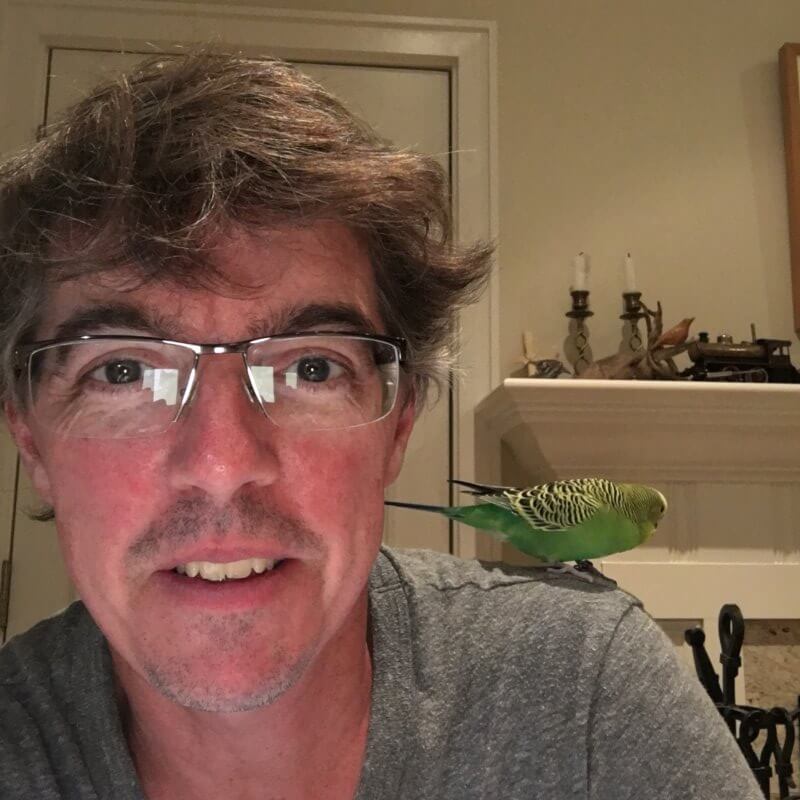 Fursey McCormack
Sailing Educator
This is Fursey's second year with HRCS! Originally from BK, Fursey grew up sailing and instructing sailing on Gardiner's Bay and Long Island Sound, while journeying to Block Island and Rhode Island.
Fursey has a BA in Anthropology from Fordham University and an MSc in Maritime Archaeology from the University of Southampton in England. Fursey is a middle school teacher and currently teaches social studies in Bushwick.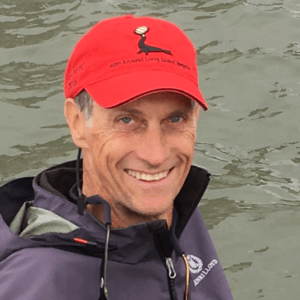 Christopher Lawrence
Sailing Educator
Captain Christopher Lawrence holds a USCG 50 ton Masters's license, US Sailing Basic Keelboat and Performance Sailing instructor certifications and an International Proficiency Certificate. He loves windward/leeward and offshore racing or cruising on all size boats recently completing a transatlantic crossing and a three month trip from Charleston SC to the Galapagos. When he isn't teaching at HRCS, he's running Onsight Adventures charter trips or coaching students on 420s at the Harbor School on Governors Island NYC. He is also a professional photographer, a rock climbing guide, and has recently taken up paragliding.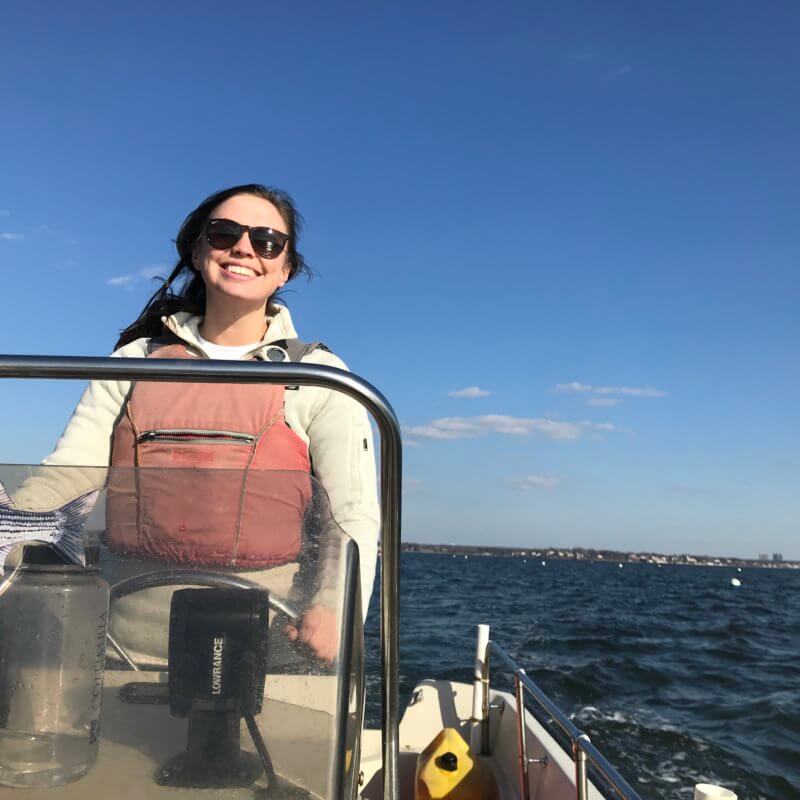 Mary Kate Mezzetti
Sailing Educator
Mary Kate grew up sailing dinghies on Lewis Bay in Hyannis, MA. She moved south to compete for the Georgetown University Sailing Team, but returned home to Hyannis each summer to coach at the program she grew up in. After graduating, Mary Kate went back to school to teach and joined HRCS in 2018 as a Sailing Educator. Mary Kate teaches high school social studies in Coney Island, and is thrilled to kick off another summer at HRCS!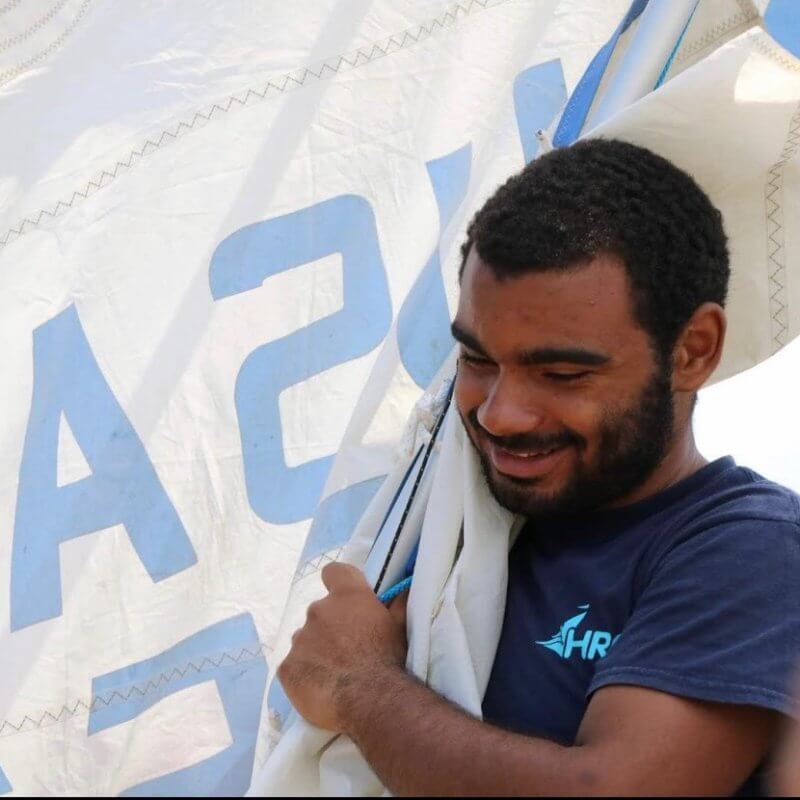 Dario Arias
Sailing Educator
My name is Dario Arias. I'm originally from the Tamboril, Dominican Republic. I am currently a sophomore at Hunter College, studying Computer Science. A fun fact, I can swim backwards. I started sailing back in 9th grade. I was never meant to stay for more than three weeks. I came in because a former instructor convinced me to give the program a try during his presentation at my school. I loved it from the start. Before I knew it, I was in a race team, then in an internship, and so on. Long story short, four years went by. I am excited to start my first season teaching at HRCS!