Member Benefits
Membership supports our youth programs
Membership dues help us maintain our fleet and contribute to other fixed costs which allows us to use the dollars we fundraise to go directly to our youth programs Sail Academy & First Mates, teaching teens leadership, math, and science through sailing.
Learn a life-long sport, hobby and means of escape
Sailing can literally take you around the world.  It's a way to relax, to have adventure, to meet new people, and see new places.  There is a history, lore, nature, art and culture surrounding it.  It is hugely rewarding.
Bring up to 4 guests at a time.  No limits on how often they come.  Guests are either 10 or 35 per person depending on membership type
Being a member makes it easier to meet and join other racers.   15% discounts are also given to members who take the Race Class
Enjoy the outdoors with no commute
Jump on a boat and get away from the crowd and noise of New York City.  You'll have all the beauty of the scenery plus the sky, wind and water.
Free instructional sailing opportunities
Once anyone from the public signs up for a public sail (our 2-4 hr lessons & excursions) we open any remaining available spaces to members either free or at a reduced fee of 35.  We call these Instructor Sails, and they all have an HRCS staffmember aboard.
Access to a fleet of J24s year round
Our main season is mid-April to mid-Nov, and we have limited frostbiting (winter sailing).  We're the only venue around with such a long season.
Attend workshops and social events
We regularly run workshops & presentations such as Outboard Engine Use, Deserted Islands of NYC, Knot Tying, and also have socials, informal or organized throughout the year.
If not listed as a "Instructor Sail" (see above), members still get 15% all public offerings.  This includes our Race Class, Caribbean Charter, Basic Keelboat course, and Basic Cruising Course.
Join an exciting community
You'll make new friends and discover the most beautiful parts of Manhattan aren't in Manhattan.
Meet new friends and share fun adventures right in NYC's backyard - the Hudson.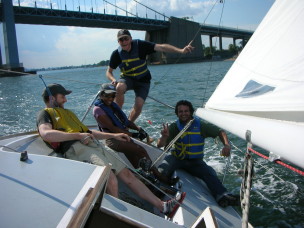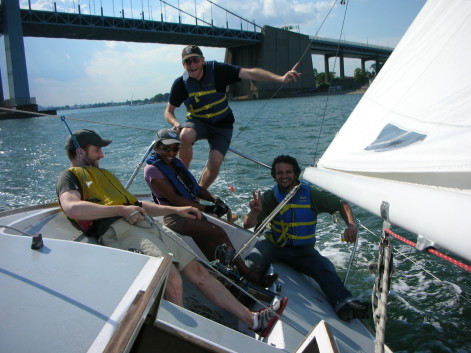 Members sailing under the Throggs Neck Bridge on an extra long and fun 20 mile sail from City Island to Pier 66 at the season's start .
Explore NY Harbor.  See the Brooklyn Bridge in the background?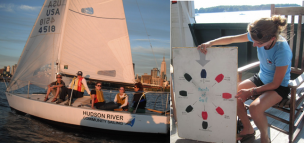 Get 15% off all public lessons, including the 18 hour Basic Keelboat Certification Course.