2023 Dark 'n' Stormy Raffle
Thank you to all of our raffle donors!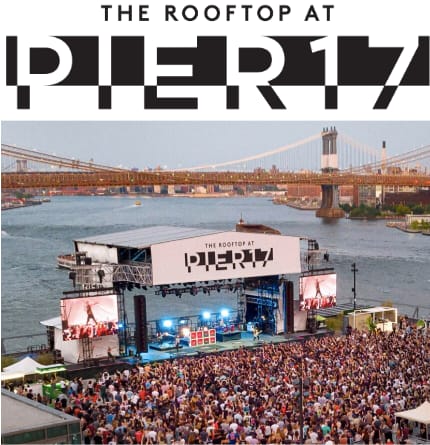 The Rooftop at Pier 17 Summer Concert Series
Two (2) VIP tickets to one (1) 2023 concert of the winner's choice on The Rooftop at Pier 17 at the Seaport. All-Inclusive Food & Beverage, Access to VIP Viewing Area, VIP Entrance. Reserve tickets at least 30 days in advance.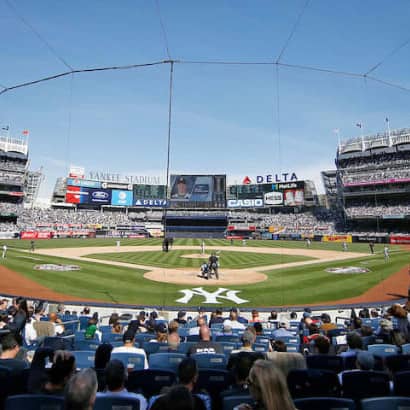 2023 New York Yankees Legends Suite Tickets August 2nd vs. TB Rays
Win two (2) Legends Suite tickets to the August 2nd, 2023 New York Yankees game vs. the Tampa Bay Rays. All-inclusive food and nonalcoholic beverages at the Legends Suite Club.
The Legends Suite is curated for those who demand the best in baseball. Enjoy first class accommodations, fine dining, and a host of elite services that simply cannot be beat. Join a winning lineup of unparalleled comfort and convenience, with special amenities to give you the most immersive New York Yankees experience.
Tickets donated by RBC on behalf of Bobby
2023 KPMG Women's PGA Championship Final Round
The best women's golfers in the world are competing at the 2023 KPMG Women's PGA Championship at Baltusrol, and you can catch the Final Round in style with this Champions Club Ticket Package for Four (4). The Champions Club, located in the Grill and Formal Dining Rooms of the Baltusrol Golf Club Clubhouse, provides guests with an unmatched hospitality experience. In addition to exclusive Clubhouse access, Champions Club guests will enjoy a preferred viewing venue on the signature 4th Hole. Packages features tickets with both grounds and hospitality access, breakfast and lunch buffets, afternoon hors d'oeuvres, premium open bar service, preferred parking, Wi-Fi and more.
Includes: Four (4) tickets and two (2) preferred parking passes for the day, Sunday, June 25, 2023.
2023 New York Yankees Luxury Suite Tickets June 9th vs. Red Sox
Win four (4) Luxury Suite tickets to the June 9, 2023 New York Yankees game vs. the Boston Red Sox. Food and beverages included.
Closet Organization + Online Shopping/Styling with Hailey Ornduff
Hailey Ornduff is a Personal Stylist focused on delivering a high quality and bespoke service.
Together you'll take a thorough look at your current wardrobe. This will allow you to take inventory of what's working and what no longer suits. After doing so we will gather together a list and shop. Finally styling together looks with your new and old clothing. Leaving you with a refreshed closet for any given moment. 
Check out some of Hailey's latest looks!
** Valid for 1 person - to be used within  2 months of receiving
NY Sports Fan Pack Featuring: Yankees vs. White Sox Tickets
This package covers (almost) all the bases! Highlighted by two (2) tickets to Wednesday, June 7th White Sox @ Yankees game.
Also includes: Autographed photo of Brooklyn Nets star Mikal Bridges, pre-signed lithograph photos of NY Giants RB Saquon Barkley and NY Jets DT Quinnen Williams.
BrickHouse Ceramic Art Center NYC
Gift Certificate for 6 Week Class, unlimited bench time, tools, and a locker
BrickHouse Ceramic Art Center is a sanctuary in NYC where adults can relax and create art.  Enjoy courses in wheel throwing, handbuilding, sculpture and technical topics. The experienced faculty has a broad range of practical experience as well as formal training and education from ceramic arts programs at major universities.
NYC Night & Day: Classic Harbor Line Architecture Tour & VIP Sleep No More Tix
Explore NYC's new and enduring architecture, engineering marvels and the revitalized waterfront from the teak decks of Classic Harbor Line's elegant motor yachts. Tour narration is eloquently shared by AIANY (American Institute of Architects) members.
Your Oz's List Reservation for Two to Sleep No More at The McKittrick Hotel includes front of the line access and a reserved table to see Shakespeare's classic Scottish tragedy through the lens of suspenseful film noir.
California Whale Watching Tour
Two (2) tickets to join a local whale expert aboard the Condor Express in Santa Barbara, CA plus two Benioff Ocean Science Laboratory Patagonia rashguards.
Donated by Benioff Ocean Science Laboratory
Travel/lodging not included
10-Pack of The Limit In-Person Classes
The Limit is a Dance, HIIT, and Tone workout based in functional training. The only class that has dance is Dance Cardio. Our other classes are Tone, Cardio Tone, and the Box Class. Our trainers are all certified through nationally accredited organizations and will show you how much you are actually capable of through training. This workout is a great cross training to any sport and will enhance your activities of daily life!
Classic Harbor Line Champagne & Cheese Pairing Cruise for 2
Bubbles, Bites & New York City Sights! As you cruise on Classic Harbor Line's Yacht Manhattan II or Yacht Manhattan, you will be able to take in all the beauty the New York City skyline has to offer while relaxing in our grand observatory. This cruise has limited capacity to create an intimate, comfortable and quiet NY Harbor cruise.
$150 off Lesson or Sunset Sail
Moriches Island Sailing offers safe, fun and personalized private and small group sailing from Silly Lily Fishing Station- one of the Hampton's hidden gems. All of our sailing lessons are tailored to the unique needs of each student.
Tee it Up at Brooklyn Greens
Enjoy a Round of Golf Certificate from Brooklyn Greens!
Our mission is to make golf accessible and approachable to everyone in our community. Your Round of Golf Certificate is for a round of virtual golf, which lasts approximately 2 hours and a round of drinks for up to 4 people.
One month of unlimited classes.
The F stands for functional training, a mix of circuit and hiit style workouts geared towards everyday movement. 45 is the total amount of time for sweat-dripping, heart-pumping fun.
F45 Training workouts are designed to unify the muscle groups of the body and to help make you feel and perform better in all aspects of your life.
Red Inside Culinary Studio Class Experience for Two plus a $150 Culinary Backstreets Walking Food Tour gift certificate
Choose from a variety of classes at Red Inside's state of the art kitchen studio. With step-by-step instructions mixed with some of your own creative touches, prep a healthy dish to share with your fellow students after the class and easily remake at home for your friends and family.
Culinary Backstreets specializes in helping showcase the workings of simple family-run restaurants. Winner will be able to choose one of Culinary Backstreet's Walking Food Tours in Queens NY or any of these international locations: Athens, Barcelona, Istanbul, Lisbon, Los Angeles, Marseille, Mexico City, Naples, New Orleans, Oaxaca, Porto, Rio, Shanghai, Tbilisi, or Tokyo.
BRIC Arts Media Champion Membership
BRIC Membership offers benefits to a year's worth of programming including BRIC
Celebrate Brooklyn!, BRIC JazzFest, contemporary art exhibits, public programming and more including:
Access to expedited member check in, seating area, and member tent for 2 at BRIC Celebrate Brooklyn!
6 guest passes for BRIC Celebrate Brooklyn! free shows and 2 complimentary tickets to a BRIC Celebrate Brooklyn! Benefit show.
See HERE for full benefits!
All the elements of a great day in Williamsburg! Start the day at home with a selection from your Onyx Coffee Lab Collection Box and then head out to BathHouse to enjoy your Day Pass. Next, it's a Factory Tour + Chocolate Class Experience at Kahkow Chocolate! And wrap up the day at Nighthawk Cinema -- with two tickets and a $50 Gift Card for food and beverages!
Check out the full details HERE
Mast Market $100 Gift Card
Mast Market is your neighborhood market providing local, organic food and goods for everyday sustainable living. We're doing our best to make living sustainably a bit more beautiful, delicious, and convenient for you and your family.
The Ultimate Workout Package
Tired of the same old workout?
Spice things up with a 5-Class Pack from 305 Fitness and a 3-Class Pack from CycleBar NoHo.
Then check out two of the most popular indoor climbing gyms in the city with a 10-Pack Pass to Brooklyn Boulders and 4 Day Passes to The Cliffs at LIC . Rental equipment is included in both locations!
Red Bull NY vs. Orlando City SC
Two (2) tickets to Saturday, June 3rd game. Red Bull Arena, Harrison, NJ - 7:30pm
Tickets donated by RBC on behalf of Andre Gutierrez
Share positivity with this You Are Beautiful bundle, and remind each and every single person to be confident in who they are. Package includes stickers, buttons, magnets, a tote and more!
ADAMJK® Gift Pack featuring books, stickers, pins and more! ADAMJK® is an art and stationery brand focused on gifts that are fun, weird, sentimental, and often literal. This body of accessible artwork has been sold everywhere from museum gift shops to mass retail.
Utilizing the most environmentally-responsible packaging available and safest sunscreen actives, Zoca Lotion does its best to minimize its impact on our oceans and environment. Gift set includes sunscreens & salves.
One Year Family Membership 
Storm King Art Center is a 500-acre outdoor museum located in New York's Hudson Valley, where visitors experience large-scale sculpture and site-specific commissions under open sky. Since 1960, Storm King has been dedicated to stewarding the hills, meadows, and forests of its site and surrounding landscape. Building on the visionary thinking of its founders, Storm King supports artists and some of their most ambitious works.
See HERE for full benefits.
$250 Gift Card to Five Iron Golf
Five Iron Golf, is an urban golf experience made for everyone featuring industry-leading golf simulators, instructors, club fitting, and a full bar and kitchen. Reserve a sim, book a lesson, host an event, and enjoy golf, food, and drinks. Five Iron Golf is for everyone.
90-minute Zoom Consultation
90-minute Zoom consultation for ONE high school student and their parents to discuss the college admissions process and answer any college-admissions related questions. Abby Siegel has worked for more than 26 years as a college guidance counselor, preparing high school students for success in college. Blackout dates apply.
Private Voice Lessons with Allie Glassman
Win two private voice lessons (for one person) with singer-songwriter Allie Glassman. Allie has been teaching for ten years and lessons are available in her home music studio or at Ripley-Grier Studios in Midtown. Check out her music and start loosening your vocal chords!
That's right! It's the moment you, we, Jay and his family and friends have been waiting for!
The time has come to say goodbye to the flowing mane we have all come to know and, well... let's just leave it at that.
The winner will be invited to cut Jay's hair at a mutually agreed upon Tuesday Morning Racing session.
Jay has generously decided to donate his hair to Hair We Share, whose mission is to help maintain dignity, confidence and self-esteem to those affected by medical hair loss.
"Sailing Away" 9x12 Watercolors (2017)
An Englewood, NJ, resident, Dorrie Rifkin paints from her passions. Dorrie's paintings are in several private collections in the U.S. and Europe. Her NYC/NJ-themed prints adorned sets and locations on NBC's Prime Suspect TV series (2011). The cover art for Grand Central Station's Connections, celebrating the terminal's winter 2011 centennial, was her iconic painting of its interior.
Treat yourself with this package featuring a Mimosa Sail aboard Classic Harbor Line's Schooner Adirondack.
Your day of relaxation continues with a 75-minute massage from Templebody.
You'll also receive a one-of-a-kind necklace made by Vogue Runway Senior Fashion Editor Laia Garcia-Furtado. Made with freshwater pearls, turquoise chip beads, Dalmatian jasper beads, African heishi beads and plastic floral beads
One-of-a-Kind Hand-marbled T-shirts
These one-of-a-kind hand-marbled T-shirts from Christin Ripley Studio follows the 16th century Turkish Ebru tradition of marbling, by floating pigment atop a viscous Irish Moss Seaweed liquid, creating an organic pattern as the ink spreads across the liquid surface, then captured by carefully placing the fabric atop the thick liquid vat!
Package includes two T-shirts: one Large and one Small.
Founded by renowned hairdressers, IGK presents styling products for the modern generation.
Bundle includes everything from shampoo & conditioner to blowout creams to hairspray!
Grimm and Grimmer Package
Brooklyn's Grimm Artisanal Ales is renowned worldwide both as a stylistic innovator and a respectful champion of tradition. Win a $50 Gift Card to check out their tap room! Part small business, part art project, this auteur brewery reflects the creative vision of the Grimm family and their jolly band of collaborators.
After discovering your favorite new beer, continue the party with a gift pack from Cards Against Humanity that includes the Ultimate Expansion pack, Family Edition and Glow in the Dark Box.
Two VIP Tickets to BATSU! NYC
In Japan, there is a style of comedy known as batsu game (罰ゲーム), where comedians
compete in challenges of all kinds with the losers receiving a punishment. BATSU! NYC
brings this comedy style to America, with comedians competing to avoid electric shocks, paintballs, a giant egg-smashing chicken, and many more hilarious jaw-dropping punishments! With a yokocho (横丁・横町) vibe, behind an unassuming door in the East Village, transport yourself to the alleyways of Tokyo with authentic food, drinks, and fun.
We're a team of toilet crusaders, fighting for clean bums and reduced global wastefulness. We made our best-selling bidet even better! The TUSHY Classic 3.0 bidet cleans with fresh water, the same as your sink or shower. (Never the bowl!)
A portion of Tushy profits go to build community toilets, enabling the poor in India to lead healthier, productive, and more-dignified lives.
This UWS package features a Film at Lincoln Center Contributor Level Membership. The only branch of the world-renowned arts complex Lincoln Center to shine a light on the everlasting yet evolving importance of the moving image, this nonprofit organization was founded in 1969 to celebrate American and international film. See full benefits HERE
David Ippolito is That Guitar Man from Central Park. This package includes a collection of David's music and a 1-year membership to access the 2x weekly LIVE online music hang "It's Just Us".
Terrart NYC Terrarium Workshop Experience: Make a sustainable terrarium at Terrart NYC workshop. Valid for 2 people for 2023.
Geometry Gardens $50 Gift Card: Our two shops are a local source for fresh cut flowers, indoor and outdoor plants, design services, and horticultural workshops.
$100 Dale Wolfield Ceramics Gift Card
Dale's distinctive, detailed, hand carved pieces are created and designed to be used in the home everyday. Dale's intention is to bring beauty and delight to the usual circadian rituals of our lives. Many hours of effort, design, speculation and decision making go into each individual piece. Dale is always happy to have each find its way to a new and appreciative home.
Four Hours of Professional Organizing Services
Spacelized works one-on-one with you to help you maximize your space and make it more functional, efficient, and enjoyable.
A New York City based woman-owned and -operated business, we establish custom systems and optimize your space to fit your specific style and needs.
As an eco-conscious company we work with several charitable organizations and find creative ways to reduce, reuse, and recycle.
Signed set of "Rookie" Yearbooks from Tavi Gevinson
In 2008, actress and writer Tavi Gevinson (HBO Max's Gossip Girl) started a fashion blog called Style Rookie. In 2011, she founded an online magazine for teenage girls called Rookie. Rookie was home to thousands of essays, interviews, comics, advice columns, playlists, diaries, photo editorials, and other work by teenagers and their grown-up cohorts. Rookie published five print anthologies with Penguin Random House, which she also edited and art directed.
$500 of Laws of Motion Products
Perfect-fitting women's clothing using data science. At Laws of Motion, we believe in being a force at whatever you choose to be – and we exist to fuel those ambitions. We are excited to offer you $500 to be used on any Laws of Motion perfect-fitting pieces!
Powered by billions of data points, Laws of Motion engineers precision sizing that is rooted in inclusivity. Unlike traditional apparel brands, which offer standard sizes, Laws of Motion offers hundreds of personalized sizes that are shape inclusive – up to 16 shapes per size – and fit 99% of women perfectly.
Executive Business Coaching Session
Do you want to increase your sales, get more repeat business, and retain your employees longer?
Get a personalized communication style evaluation from Certified Business and Executive Coach Dave Rossberg. After taking a 15-minute online assessment, you'll receive a one-on-one 1-hour coaching session to review your behavioral makeup across four key personality types.
During this session, we'll identify various strengths and weaknesses in your communication style, as well as actions you can take to improve your ability to communicate effectively both in business and your personal life.
Original Geraldine Abdoo Paintings
This beautiful package of original paintings by Gerldine Abdoo includes:
Wildfire #2 -  Framed 9" x 12"
Autumn #2 -  Framed 8" x 10"
"Sail Away", Eastchester Bay, City Island NY
Lisa Lager's photograph "Sail Away" will instantly make you wish you were on the water!
Artist's Mission: I capture fleeting moments that evoke my own strong emotions – wonder, joy, resilience, possibilities, contemplation, and gratitude for the soothing power of nature. My hope is that you will linger on these images and that they will transport you to a peaceful, hopeful, inspiring place, too.
Secret Theater Combo Pack
The Secret Theatre is an Off-Off-Broadway theatre in Woodside, established in July 2007 by Actor / Director Richard Mazda.
Your special combo pack includes a four-pack of classes at The Secret Theatre Academy and a Family Pack (2 adults/2 kids) to the kid's show Pirate Pete or Princess Particular.
STA offers a range of classes for students ages 6-18.
Date Night Scavenger Hunt 
Looking for a fun date night idea? Your hunt is over! Scavenger Hunts by Let's Roam are the perfect way to create lasting memories. It doesn't matter if it's your first date or your 50th, a date night scavenger hunt is always a great time.
This package features a 20x30 inch Teddy Bear baby quilt with cotton batting and embroidery stiches that was handmade by Reggy Sonsino.
Reggy's fabric art work includes patchwork quilts, duvet covers, tote bags, aprons, pillow covers, wall hangings and other home decor, which can be seen at art shows and street fairs.
Commission a portrait to commemorate, celebrate, and treasure by New York-based artist and educator Sharon Holiner. Couples, families, children, or pets. Portrait can be watercolor or pen-and-ink as per your preference.
Thank you to our sponsors:
Proceeds from the Dark n' Stormy Benefit support Hudson River Community Sailing's mission of developing leadership in underserved New York City youth through sailing education and providing maritime recreation to the community at large. Hudson River Community Sailing is a 501(c)(3) non-profit organization.